Useful links featuring Haus Sandrose

Download a PDF...
To read what we say in our brochure, click on the link to download the brochure section including Haus Sandrose. To save a copy onto your computer, right-click on the link and select 'Save Target as...'.
Useful links...
We want you to understand more about Haus Sandrose. We're not shy to direct you to their own website as we're confident that a trip there with us will cost you the same or less than booking it any other way, even directly. So follow the links below for more information.
Haus Sandrose is often combined with:
Sort by:
Name


|
% of trips


|
Traveller's rating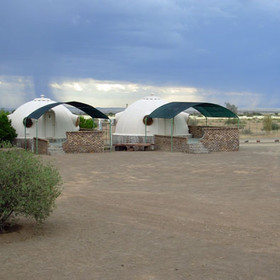 Quivertree Forest Restcamp
|
100%
|


Quivertree Forest Rest Camp is situated about 13km from Keetmanshoop on the privately owned farm Gariganus. Here visitors can explore the ancient Quivertree Forest – a dense stand of tree-aloes and the rock formations of the Giant's playground. Quivertree Forest Rest ...
Read more about Quivertree Forest
Canyon Roadhouse
|
100%
|


Canyon Roadhouse stands 25km from the Fish River Canyon, slightly further than its two sister lodges, the Canyon Village and the Canyon Lodge. Though a little smaller, it has plenty of character, with very similar standards of service and hospitality. Canon Roadhouse has ...
Read more about Canyon Roadhouse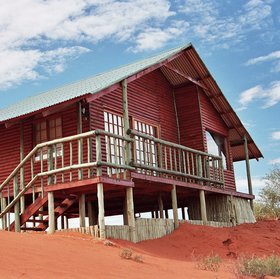 Bagatelle Kalahari Game Ranch
|
100%
|


Bagatelle Kalahari Game Ranch stands on the east side of the D1268, about 25km north of the tarred C20 road, between Hardap and Stampriet. This owner-run tranquil lodge in the red Kalahari dunes was initially a sheep and cattle ranch. It is just a 2½-hour drive from Windhoek ...
Read more about Bagatelle Game Ranch
Ongava Tented Camp
|
100%
|


The small Ongava Tented Camp is nestled in mopane woodland at the foot of a low hill on the private 300km2 Ongava Reserve, overlooking a waterhole. The reserve borders Etosha National Park on the south side, near the Andersson Gate, and benefits from similar wildlife, with ...
Read more about Ongava Tented Camp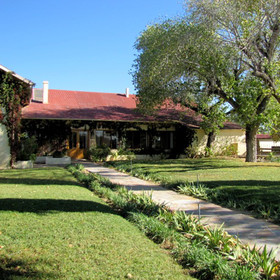 Elegant Farmstead
|
100%
|


The Elegant Farmstead, previously known as Otjisazu Guest Farm, re-opened in 2010 following extensive renovation. It is situated approximately an hour-and-a-half's drive north-east of the Namibian capital, Windhoek, in an area of commercial farmland that is home to a variety ...
Read more about Elegant Farmstead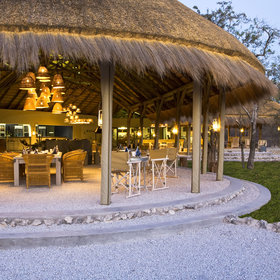 Mushara Bush Camp
|
100%
|


Opened in 2009, Mushara Bush Camp is the newest property in the Mushara Collection, a group of lodges set on the private 25km2 Mushara Reserve, just 10km from the eastern edge of Namibia's Etosha National Park. Owned by Marc and Mariza Pampe, this camp is specifically ...
Read more about Mushara Bush Camp
Okonjima Plains Camp
|
100%
|


Set amidst plains and rolling hills in a 220km2 private reserve just south of Otjiwarongo, Okonjima Plains Camp opened in 2014. It is the most affordable of the places to stay on the Okonjima Nature Reserve, whose raison d'etre is the AfriCat Foundation, set up to conserve ...
Read more about Okonjima Plains Camp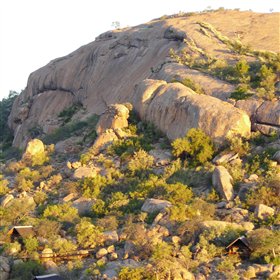 Erongo Wilderness Lodge
|
100%
|

Just west of Omaruru, Erongo Wilderness Lodge perches amidst the rugged granite kopjes of Namibia's Erongo Mountains, in the vicinity of an ancient volcanic crater and within a conservation area. With views across the mountains, the lodge is known for its walking and birding ...
Read more about Erongo Wilderness