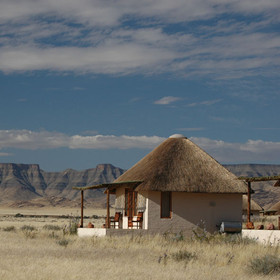 Desert Homestead has 20 thatched chalets...
Chalet
The chalets at Desert Homestead are built of brick with thatched roofs and concrete verandas.

Each chalet is painted white with white fabrics, and modern, dark wood furniture, including a cupboard and desk. From a small veranda, glass patio doors lead into the bedroom, with views of the desert from the bed. Plain white cotton linen is softened by beige-coloured cushions, while blue headboards and various decorative carvings add touches of colour. A long mirror above the desk adds light to the room.

The rooms are cooled by ceiling fans, although when we visited in April 2010 we found these ineffective when the mosquito net was down. The mosquito net was too small for the bed, too, but the manager assured us that new, well-fitting nets had been ordered.

The long, narrow bathroom has a shower, washbasin and flush toilet. A selection of handcream and soap dispensers is provided. The lack of lighting in the bathroom can make it seem quite dark, but the facilities are perfectly adequate – and there's even a large ladybird made of beads to show you which is the hot tap!