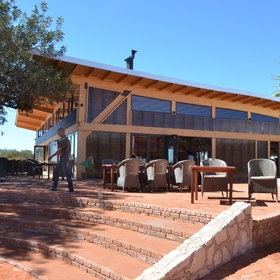 The recently refurbished Kalahari Anib Lodge is one of the larger lodges...
Standard Comfort Room
The 19 individual rooms at the back of the Kalahari Anib Lodge are built of brick, next to each other with one wall between two rooms.
The rooms at Kalahari Anib Lodge are part of one long building, with a dividing wall separating every two rooms. Each has their own separate verandah, where you will find wrought-iron garden furniture, consisting of a small table and chairs. This is a great place to relax and take in the surrounding views.
Each room has large beds, with firm comfortable mattresses which sit in a solid brick base. Above the bed is a soft light for the room, and then on either side of the bed are lamps which sit on the bedside table.
You will also find and coffee/tea making amenities in the rooms, a vanity table in the far corner and a seating area with a small table. For charging up your cameras there is a built-in International adapter, with the Namibian 3 rounded pin plug.
There is air conditioning in the rooms and the glass sliding door has a mesh, wire screen to keep out any mosquitoes and insects.
Air conditioners can keep rooms cool during the hot summers and in winter they can be used as heaters to warm the rooms. Additional blankets are also provided during the cold winters.
The bathrooms walls are tiled in off white tiles, with the floors made of stone. Each room has a private en-suite bathroom, with a hot-and-cold shower (with a stool to sit on), a flush toilet and a wash basin. The triple room has a bath instead of a shower.
Towels and small bottles of toiletries are provided in every room, though there are no electric points in the bathrooms.
Standard Comfort Room | Standard Room |