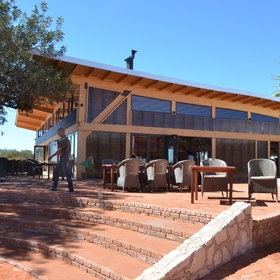 The recently refurbished Kalahari Anib Lodge is one of the larger lodges...
Standard Room
The standard (or "group") rooms at the Kalahari Anib Lodge are sparsely decorated in a simple but tasteful style. The inside walls are bare pale grey. This helps to keep the room cool in the summer and warmer in the cold winter months, which is especially important as the rooms do not have air conditioning.
Every room does have mosquito nets above the beds and wire mesh screens in front of the windows. The Group Rooms also have a private verandah which faces out onto the swimming pool and garden area. The colours and design are pale muted creys and creams, giving them a nice natural feel.
The en-suite bathrooms in the Group Rooms at Kalahari Anib Lodge, are very similar to the
Individual Rooms'
bathrooms. The only noticeable difference is the tiles on the walls, which are stone-coloured rather than off-white. Each room has an en-suite private bathroom with a hot-and-cold shower, a flush toilet and a wash basin.
Linens and small bottles of toiletries are provided, though there are no electric points in the bathrooms.
Standard Comfort Room | Standard Room |