Useful links featuring Kalahari Farmhouse

Download a PDF...
To read what we say in our brochure, click on the link to download the brochure section including Kalahari Farmhouse. To save a copy onto your computer, right-click on the link and select 'Save Target as...'.
Useful links...
We want you to understand more about Kalahari Farmhouse. We're not shy to direct you to their own website as we're confident that a trip there with us will cost you the same or less than booking it any other way, even directly. So follow the links below for more information.
Kalahari Farmhouse's website
Kalahari Farmhouse's homepage on the Gondwana Collection website.
Kalahari Farmhouse is often combined with:
Sort by:
Name


|
% of trips


|
Traveller's rating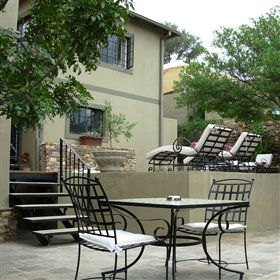 Olive Grove
|
100%
|

The Olive Grove is a stylish guesthouse in Windhoek's Klein Windhoek suburb. Taking its name from the neighbouring grove of olive trees, the guesthouse is located in a renovated old house. It was opened in early 2004, and has become a favourite place to stay in Namibia's capital city...
Read more about Olive Grove
Camp Kipwe
|
100%
|

Camp Kipwe is set within the Twyfelfontein Conservancy in Damaraland, about 550km from Namibia's capital city Windhoek. Formerly known as 'Francolino Fly Inn', it was extended, fully refurbished and reopened under this name in 2009. It's the sister camp of the nearby Mowani ...
Read more about Camp Kipwe
Weltevrede Restcamp
|
50%
|

Weltevrede Guest Farm offers simple yet comfortable accommodation between Sesriem and Solitaire. Weltevrede has 12 has motel style rooms, all with porches offering sunset views and the chance to spot the springbok that sometimes wander by. Family rooms have a large carved ...
Read more about Weltevrede Restcamp
Villa Margherita
|
50%
|


Villa Margherita – 'The Charming House' – is an upmarket colonial-style B&B, set in the heart of Swakopmund on Namibia's Atlantic coast. Constructed between 1908 and 1913, it was completely renovated and refurbished by owners Claudine and Amelio, before opening for guests in March 2008...
Read more about Villa Margherita
Ongava Tented Camp
|
50%
|


The unfenced Ongava Tented Camp is a small camp nestled in mopane woodland at the foot of a small hill on the private 300km2 Ongava Reserve, and overlooking a waterhole. The reserve borders Etosha National Park on the south side near Andersson's Gate and is an ideal base ...
Read more about Ongava Tented Camp
Sandfields Guesthouse
|
50%
|


Just a few minutes' drive north of the centre of Swakopmund, Sandfields Guesthouse has only five rooms, giving it an intimate and cosy feel. The guesthouse is located in a quiet residential area just a short walk from the beach. Sandfields is particularly child friendly, ...
Read more about Sandfields Guesthouse
Eagle's Nest
|
50%
|

The Eagle's Nest stands on the Klein Aus Vista reserve, 2km west of the small town of Aus. It's in a semi-desert area of Southern Namibia and straddles the interface between the mountains and the desert plain - a very stark and scenic area. Klein Aus Vista is made up of ...
Read more about Eagle's Nest
Okonjima Bush Camp
|
50%
|

The rolling hills and grassy plains of the Okonjima Nature Reserve, just south of Otjiwarongo, are home to Okonjima Bush Camp. The 220km2 resesrve is also the base for the AfriCat Foundation, a non-profit organisation set up to conserve and protect Namibia's threatened ...
Read more about Okonjima Bush Camp
Hoodia Desert Lodge
|
50%
|


Named after a flowering cactus, Hoodia Desert Lodge, opened in 2008 and is owned and managed by Thomas and Henreza Becker. The lodge is set at the foot of the Namib-Naukluft Mountains overlooking the ephemeral Tsauchab River, and backed by plains that seem to go on forever...
Read more about Hoodia Desert Lodge