Useful links featuring Namib Guesthouse
Useful links...
We want you to understand more about Namib Guesthouse. We're not shy to direct you to their own website as we're confident that a trip there with us will cost you the same or less than booking it any other way, even directly. So follow the links below for more information.
Namib Guesthouse homepage.
Click the link to see the Namib Guesthouse website.
Namib Guesthouse is often combined with:
Sort by:
Name


|
% of trips


|
Traveller's rating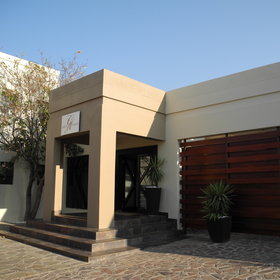 Galton House
|
100%
|

Galton House, named after the early explorer Sir Francis Galton, opened in Windhoek's residential suburb of Eros in 2011. Only ten minutes' drive from the city centre, it's a modern yet homely guesthouse with a backdrop of rolling hills. There's a mix of comfortable indoor ...
Read more about Galton House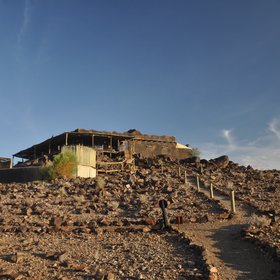 Doro Nawas
|
100%
|


Doro Nawas Camp is perched on top of a rugged, rocky hill, on the floodplains of the dry Aba Huab River. Solid and almost foreboding in appearance, it has open and attractive views across the plains to the mountains and sandstone cliffs of Twyfelfontein. The camp is a ...
Read more about Doro Nawas
Mountain Lodge
|
50%

The newest addition on the Etosha Heights Reserve, Mountain Lodge, also marketed as Etosha Mountain Lodge it opened to travellers in March 2018. On the southern boundary of Namibia's Etosha National Park this private reserve covers 600 km2, within this the lodge will be ...
Read more about Mountain Lodge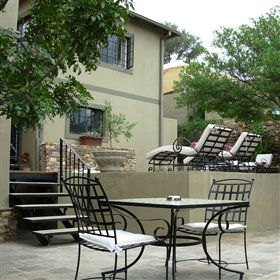 Olive Grove
|
50%
|

The Olive Grove is a stylish guesthouse in Windhoek's Klein Windhoek suburb. Taking its name from the neighbouring grove of olive trees, the guesthouse is located in a renovated old house. It was opened in early 2004, and has become a favourite place to stay in Namibia's capital city...
Read more about Olive Grove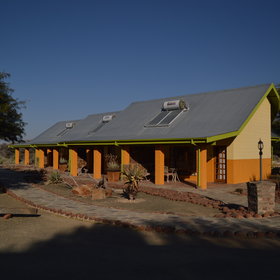 Bullsport Guest Farm
|
50%
|


Bullsport Guest Farm (also known as BuellsPort or BüllsPort) stands approximately 250km southwest of Windhoek, and about 50km south of Solitaire, in its own section of the majestic Naukluft Mountains. Offering hiking and horseriding, Bullsport is one of Namibia's oldest farms...
Read more about Bullsport Guest Farm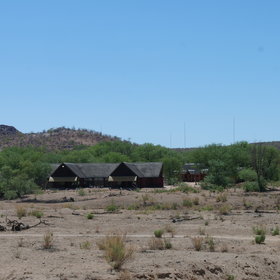 Hobatere Lodge
|
50%
|


Situated between Damaraland and Namibia's Etosha National Park, but somewhat off the obvious route, Hobatere Lodge was re-opened under community ownership in April 2015, having been closed for some years. The lodge is set on its own 88km2 concession, and is approximately ...
Read more about Hobatere Lodge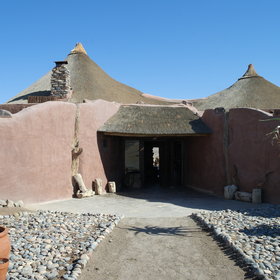 Kulala Desert Lodge
|
50%
|


Situated on the 210km2 private Kulala Wilderness Reserve south of Sesriem, Kulala Desert Lodge offers a close and spectacular view over the Namib Sand Sea to the west, and the Namib-Naukluft Mountains to the east. Originally opened in 1996, the lodge was built to make the ...
Read more about Kulala Desert Lodge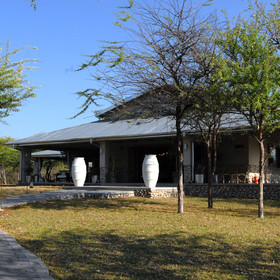 Mushara Outpost
|
50%
|


Just 10km from Etosha National Park's eastern Von Lindequist gate, Mushara Outpost sits within the 25km2 private Mushara Reserve. With only eight tented rooms, it aims to provide an intimate and luxurious base from which to explore Namibia's foremost wildlife park. Mushara ...
Read more about Mushara Outpost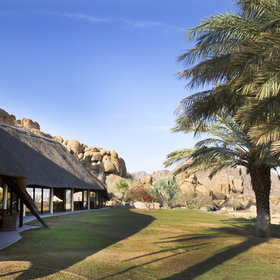 Ai Aiba Lodge
|
50%
|


Nestled at the foot of a granite kopje, Ai Aiba Lodge – sometimes marketed as 'Ai Aiba – The Rock Painting Lodge' – enjoys views of Namibia's Erongo Mountains. The lodge is in an area with a large concentration of Bushman rock art, some of it up to 2,000 years old and much ...
Read more about Ai Aiba Lodge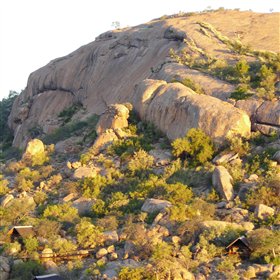 Erongo Wilderness Lodge
|
50%
|

Just west of Omaruru, Erongo Wilderness Lodge perches amidst the rugged granite kopjes of Namibia's Erongo Mountains, in the vicinity of an ancient volcanic crater and within a conservation area. With views across the mountains, the lodge is known for its walking and birding ...
Read more about Erongo Wilderness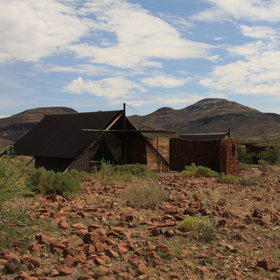 Etendeka Mountain Camp
|
50%
|

Etendeka Mountain Camp is a small, rustic eco camp, located in a private 500km2 concession area (effectively a private reserve) in the foothills of the Grootberg massif. It's an area of stunning scenery amidst the ancient Etendeka lava flows of northern Damaraland. Here ...
Read more about Etendeka Camp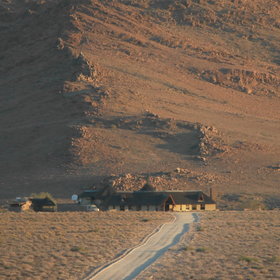 Hoodia Desert Lodge
|
50%
|


Named after a flowering cactus, Hoodia Desert Lodge, opened in 2008 and is owned and managed by Thomas and Henreza Becker. The lodge is set at the foot of the Namib-Naukluft Mountains overlooking the ephemeral Tsauchab River, and backed by plains that seem to go on forever...
Read more about Hoodia Desert Lodge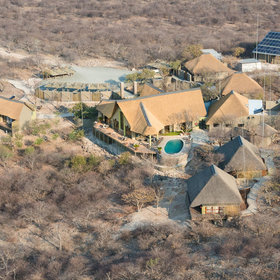 Safarihoek Lodge
|
50%
|


Safarihoek Lodge – which is being marketed as Etosha Heights Safarihoek Lodge – lies close to the south-western border of Namibia's Etosha National Park, on a hill overlooking mopane woodland. Located on the private Etosha Heights Farm Reserve, the lodge opened in its current ...
Read more about Safarihoek Lodge