Useful links featuring The Burning Shore
Useful links...
We want you to understand more about The Burning Shore. We're not shy to direct you to their own website as we're confident that a trip there with us will cost you the same or less than booking it any other way, even directly. So follow the links below for more information.
The Burning Shore
We do not yet have a lot of information on this lodge but visit the webiste to find out more.
The Burning Shore is often combined with:
Sort by:
Name


|
% of trips


|
Traveller's rating


Hilltop House
|
100%
|


Hilltop House is situated in a cul-de-sac in a quiet residential area on the north side of Windhoek, in a suburb called Klein Windhoek. It was built in the 1950s as an art studio, making it quite old by Windhoek's standards, and has great views over the surrounding mountains...
Read more about Hilltop House
Kulala Desert Lodge
|
100%
|


Situated on the 210km² private Kulala Wilderness Reserve south of Sesriem, Kulala Desert Lodge offers a close and spectacular view over the Namib-Naukluft dune sea to the west, and the Namib-Naukluft mountains to the east. Originally opened in 1996, the entire lodge was ...
Read more about Kulala Desert Lodge
Ongava Tented Camp
|
100%
|


The unfenced Ongava Tented Camp is a small camp nestled in mopane woodland at the foot of a small hill on the private 300km2 Ongava Reserve, and overlooking a waterhole. The reserve borders Etosha National Park on the south side near Andersson's Gate and is an ideal base ...
Read more about Ongava Tented Camp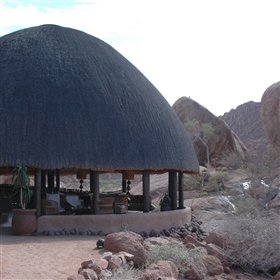 Mowani Mountain Camp
|
100%
|


A sister camp to nearby Camp Kipwe, and situated in the heart of southern Damaraland between the Ugab and the Huab rivers, Mowani Mountain Camp commands a stunning location − perched high on a rocky outcrop, nestled amongst large granite boulders and overlooking gravel ...
Read more about Mowani Mountain Camp
Wolwedans Dunes Lodge
|
100%
|


Wolwedans Dunes Lodge is situated on the private NamibRand Nature Reserve, a vast area of 2,100km2 located in the Namib Desert in southern Namibia. Built along the top of a dune plateau and overlooking the desert in all directions, this is the most substantial of the Wolwedans Collection...
Read more about Wolwedans Dunes Lodge
Okonjima Plains Camp
|
100%
|


Set amidst plains and rolling hills in a 220km2 private reserve just south of Otjiwarongo,Okonjima Plains Camp opened in late June 2014. It is the most affordable of the places to stay on the Okonjima Nature Reserve, whose raison d'être is the AfriCat Foundation, set up ...
Read more about Okonjima Plains Camp
Etendeka Mountain Camp
|
100%
|

Etendeka Mountain Camp is a small, rustic camp, located in a private 500km² concession area (effectively a private reserve) in the foothills of the Grootberg massif, which stands in stunning scenery amidst the ancient Etendeka lava flows of northern Damaraland. Here the ...
Read more about Etendeka Camp