Rwanda holidays
If you want to see mountain gorillas, some of the closest relatives to humans, then choose a Rwanda holiday. There are not many more amazing wildlife experiences than sitting within a group of gorillas.

Rwanda's Gorilla trekking in the Volcanoes National Park usually starts in the early morning. You head off in small parties to one of the known mountain gorilla groups, where the animals are used to the presence of humans. Typically most will just continue their natural interactions, whilst some might watch you with curiosity.

After a few days of Gorilla trekking, most Rwanda holidays will pass Lake Kivu, with its breath taking scenery, and head to the southwest, to Nyungwe Forest – which is hoe to chimpanzees and a wide range of other primates.

Have a look through our trip ideas and information about Rwanda and give us a call to discuss your Rwanda holiday.

Sort by:
Name


|
Duration


|
Group or individual trip


|
Cost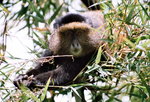 Golden Monkey Safari
|
13 days
|
Individual trip
US$7,520-7,520
This privately guided safari using a private 4WD vehicle is a grand tour of the gems of Rwanda: visits to the bustling capital city of Kigali, hiking to observe the majestic mountain gorillas of the Volcanoes National Park, admiring the glistening Lake Kivu and ...
More about Golden Monkey Safari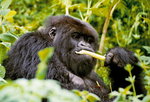 Gorillas and Maasai Mara Safari
|
10 days
|
Individual trip

US$7,624-8,752
This exciting safari to Rwanda and Kenya combines two fantastic wildlife experiences – hiking to visit the mountain gorillas in Volcanoes National Park in Rwanda, an overnight stop in Kigali, and onwards to game viewing in the Maasai Mara in Kenya.
More about Gorillas and Maasai Mara Safari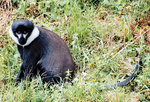 L'Hoest's Monkey Safari
|
8 days
|
Individual trip

US$4,212-4,212
This private guided safari is designed for primate lovers – it incorporates 2 nights in Nyungwe Forest National Park where chimpanzee tracking is a huge attraction and which also gives you the chance to see L'Hoest's monkey, Ruwenzori colobus monkey, grey-cheeked ...
More about L'Hoest's Monkey Safari
Mona Monkey Safari
|
10 days
|
Individual trip

US$4,995-4,995
This privately guided tour of Rwanda takes in all the main highlights the country has to offer…starting in the colourful capital city, Kigali, before continuing to the Volcanoes National Park where you'll visit the habituated mountain gorillas. Move on for a bit ...
More about Mona Monkey Safari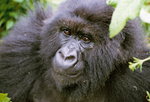 Mountain Gorilla Safari
|
5 days
|
Individual trip

US$3,497-3,497
A short 4 night in country safari, led by a private guide using a private 4WD vehicle, focusing purely on the stunning Volcanoes National Park, tracking the agile golden monkeys and spending two mornings tracking the famous mountain gorillas (more than half of ...
More about Mountain Gorilla Safari