Milkfish island holiday: In full
This great beach holiday to the Seychelles stays seven nights at two very different but equally lovely hotels – Sans Souci in the hills of Mahé Island and Acajou on the popular Anse Volbert beach (often known as Cote d'Or) of Praslin. Car hire is included so you can explore both island's at your leisure.
Include:
---
Days 1-3
3 nights at Le Sans Souci (bed & breakfast) | Mahe Island, Seychelles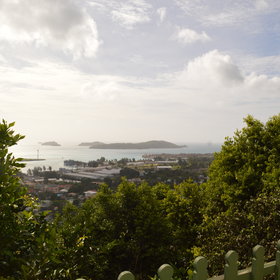 On arrival at Mahé Airport, you'll be met and driven up into the hills (about 20 minutes) to stay at Le Sans Souci guesthouse for 4 nights. although it can be tricky to find at first, it's a gem when you're here and you'll soon get the hang of its location! Le Sans Souci is in verdant hills high above the ocean overlooking Victoria's harbour and the islands in the Sainte Anne Marine Park. It's very friendly, and in the evening you're likely to have a relaxed, family-style banquet on the open-air terrace with your host Janine. With your own car, this is a perfect base from which to explore the island of Mahé.
---
Days 4-7
4 nights at Acajou Hotel (bed & breakfast) | Praslin Island, Seychelles
Leaving Le Sans Souci you'll be transferred to Mahe Victoria Jetty to catch a ferry to Praslin. It's a 60 minute boat ride to Praslin. You will be met on arrival at Praslin Baie St Anne Jetty. Collect your hired car and make our way to Acajou Hotel on the north-east coast. It's easy to see why Cote d'Or is one of the more popular beaches on the Seychelles for locals and tourists alike. You'll spend 4 nights here at this relaxed yet well-run hotel.
---
Day 8
On your last day, drive back to Praslin Baie St Anne Jetty and drop off your car. Take the ferry back to Mahe where you'll be met on arrival at Mahe Victoria Jetty and transferred to Mahé's airport where you can continue on your own international flights or other onward arrangements.
---
See Prices & details for the precise dates/prices for this trip - and all the fine print.