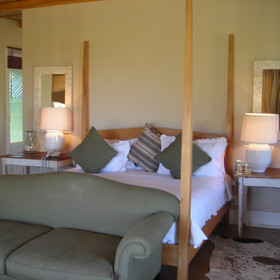 The three Karoo Suites are decorated in soft neutral tones ..
Karoo Suite
Inside each air-conditioned suite at Samara Private Game Reserve is a large four-poster bed covered in white linen and scattered with soft neutral-coloured cushions. The lounge area has a couple of comfy sofas and a coffee table with local magazines. In a corner stands a beautiful writing table made of local yellowwood and stinkwood. A bowl of fresh fruit is provided on guests' arrival.

The polished concrete floors are covered with cow-hide rugs and grass mats. On the walls are framed prints of animals and a couple of mirrors. The ceiling is made of bamboo with lightwood beams. French doors lead outside onto the private veranda which has a couple of soft chairs where you can relax and admire the sweeping views of the plains and the mountains of Samara Game Reserve.

A large en-suite bathroom leads off either side of the bedroom. A Victorian claw-foot bath is located under a low window with a separate glass enclosed shower cubicle in one corner and in the other corner is an enclosed toilet. There are two separate vanity units on either side with a white ceramic basin set on top of a traditional yellowwood table. In the bathroom area are also spacious wardrobes and a dressing table with a safe as well as a laundry bag.

A door leads off the bathroom out onto the veranda where there is an outside shower hidden in a cut-out traditional corrugated iron water tank – a very novel idea!

A hairdryer with adaptor plugs and good brand name toiletries are provided as well as white fluffy towels, dressing gowns and slippers to make your stay even more comfortable.