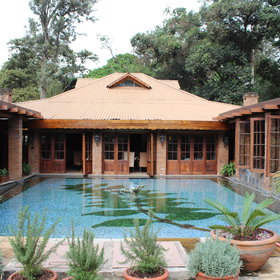 Arusha Coffee Lodge is well located for a night before or after your safari...
Chalet
TThe chalets at Arusha Coffee Lodge are little plantation-style cottages. The outside walls of these are made from stone and wood, the roofs are red iron roofs and at the front is a wide wooden deck with a table and chairs.

From the outside the rooms at Arusha Coffee Lodge look quite modest – but on the inside they are spacious and very comfortable. Dark wooden floors and wood and red-brick walls make the room a little dark, but cosy at the same time – a bit like a luxurious log cabin.

The Coffee Lodge's chalets are split-level. On the top level, you will find the large bed draped in mosquito netting; on the lower level is a small lounge area, with a cushioned wicker sofa and coffee table. For cooler evenings you can also request for your log fire to be lit.

Next to the sofa is a tea and coffee station to which guests can help themselves, and also a safe, mini-bar fridge and a phone. The phone does have an outside line, though it is relatively costly to use and any calls made will be charged to your tab. The mini bar is also an additional cost.

At Arusha Coffee Lodge there are fans in every room – though you will only really need this from December through to March, when Arusha becomes quite hot and humid.

The ensuite bathrooms are very spacious and clean. Each has a sink set into a wide wooden surface top, a bath, a flush-toilet and a shower. The walls and floor of the bathroom are tiled with grey marled tiles. There are also bathrobes, slippers and a hairdryer, as well as plenty of space to hang clothes.