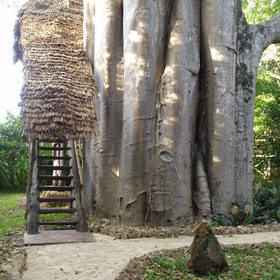 Most of the rooms at Chole Mjini are treehouses, built among huge baobab trees.
Intro to the tree-houses
Chole Mjini has six tree houses set high up in baobab trees and one ground-level suite, or 'ground house'. Links at the bottom of this page will lead to more detailed descriptions of the individual houses, and a few pictures.
Although these tree houses are all laid out differently, they share many similarities, including wooden steps that usually lead into the main bedroom. All were built by the villagers of Chole from natural materials, including mangrove wood. These skilled craftsmen make sea-faring dhows entirely by hand – so their woodwork is simply outstanding.
Smooth wooden floors are dotted with colourful makuti mats made by the local women, and brightly coloured fabrics adorn the huge double beds, which are swathed in large, walk-in mosquito nets.
All the tree houses are open on all four sides. There are waist-high wooden railings all around for safety, with curtains above for increased privacy. That said, privacy is seldom an issue as all the rooms are fairly widely spaced and cleverly angled .
Most of the tree houses command wonderful views through the trees to the sea beyond. They have high thatched roofs, and most have a second, smaller, 'tea house' floor on another level. These are ideal for families, as twin beds can be made up there for children.
Quirky storage space is made from sturdy poles and coconut-fibre rope and there's a large lock-box for any valuables.
The toilet and shower for each of the tree houses at Chole Mjini are at ground level.
Each long-drop composting
toilet
is set in its own room – some more spacious than others. All are very clean and some have seats crafted out of wood.
(The
ground house
, 6, is different, in having a flushing toilet on the same level as part of the main house.)
The shower
has its own large enclosure, walled by a palm-leaf screen, and is very quirky – but we wouldn't expect anything less from Chole Mjini. For hot water you simply light a little paraffin burner and in a matter of seconds you have a limitless hot shower. It's a clever piece of intermediate technology.
Intro to the tree-houses | No1 - Tree-house | No2 - Tree-house | No3 - Tree-house | No4 - Tree-house | No5 - Tree-house | No6 - Garden Room | No7 - Tree-house |