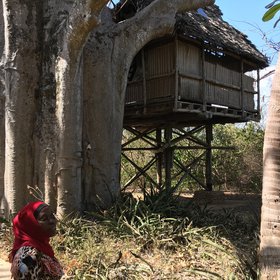 Moja tree-house is built high…
No1 - Tree-house
Tree house 1 at Chole Mjini (Moja in Swahili) up in the canopy of a venerable baobab tree is quite well hidden, especially after the rains bring thick foliage. The baobab trees on Chole Island are unusual, often growing at the water's edge and beside the beach – almost competing with the natural mangrove vegetation.
Moja is the only tree house at Chole Mjini on a single level, and the only one which has just one double bed (most also have additional singles).
Jean, the founder of Chole Mjini, comments that this tree house is a great favourite with guests because of the views over the mangroves to Kinasi Pass. The spacious deck that wraps around the tree allows the closest nature experience of all the houses – and can be enchanting at night when it's lit by fireflies.
Visitors staying in this tree house often share the tree with other inhabitants: nesting fish eagles or kites. Sometimes the young chicks even throw fish and reptile heads down at the guests on the deck below.
The shower is in a bamboo thicket and is particularly special, but Jean considers that the toilet – one of three built for a tented camp that was originally planned here – is small and a little cramped – though it functions perfectly well and does not smell unpleasant.
Intro to the tree-houses | No1 - Tree-house | No2 - Tree-house | No3 - Tree-house | No4 - Tree-house | No5 - Tree-house | No6 - Garden Room | No7 - Tree-house |