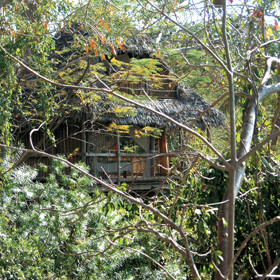 Mbili tree-house is the biggest tree-house at Chole Mjini ...
No2 - Tree-house
Tree house 2 at Chole Mjini – or Mbili – was the first one that Jean began here, along with
tree house 7
. It is bigger than the others, and has the most ambitious construction of them all.
The engineering problems it posed delayed its completion for almost a year, but Mbili is in a fabulous location and Jean is now convinced that it was worth the effort and wait.
Mbili has two double beds on two spacious and separate floors, all under one roof. The views (especially from upstairs) are spectacular and upstairs in Mbili is the most private space available in any of the houses at Chole Mjini.
The associated baobab is the granddaddy of them all, and several sensitive souls have commented that it has its own spirit and personality. One of Chole's former guests still writes emails to this tree – or so we're told by Jean.
The shower and toilet in this tree house are new, airy and spacious.
Intro to the tree-houses | No1 - Tree-house | No2 - Tree-house | No3 - Tree-house | No4 - Tree-house | No5 - Tree-house | No6 - Garden Room | No7 - Tree-house |