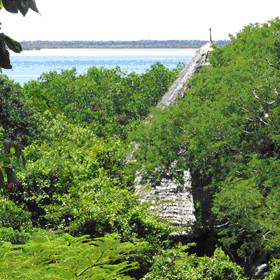 Tatu tree-house at Chole Mjini is built under a Tamarind tree ...
No3 - Tree-house
Tree house 3 at Chole Mjini, or Tatu, is reached by passing through a foliage tunnel. It is built on two levels under two separate roofs, almost like two separate houses joined by a single staircase.
The main house is on rocks under a tamarind tree, close to the ground; from there, the stairs go down into the second house, set among the mangroves over the beach. During spring tides, the water comes right up under the lower house and twice a year in February and March the floor gets wet.
Tatu is Jean's favourite tree house at Chole Mjini because he regards it as 'firefly city', and the house which is most in touch with the ocean. It has both close-up and distant sea views, with crabs and mudskippers scuttling around metres below the house and sometimes schools of fish there too.
The shower is in a very pretty rock garden but the toilet is another of the original three prototype loos at Chole Mjini.
Intro to the tree-houses | No1 - Tree-house | No2 - Tree-house | No3 - Tree-house | No4 - Tree-house | No5 - Tree-house | No6 - Garden Room | No7 - Tree-house |