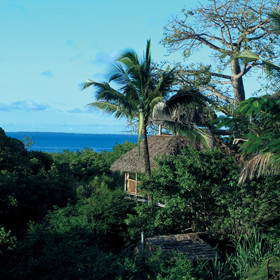 Tano has stunning views of Chole Bay.
No5 - Tree-house
Tree house no5, or Tano, is the second of the 'tea-house' tree houses, with sweeping views of Chole Bay and delicious breezes. But instead of being closely associated with a tree, it is set amid the ruins of a large 19th-century house dating from the time when Chole Mjini (Chole City) was a bustling port trading between the Shirazi Sultanate of Kilwa and the Omani Sultanate of Zanzibar. The walls of the ruins are held together by the entwined roots of a marula fig tree whose fruit is a favourite with the giant Comores fruit bats that inhabit Chole Island. These beautiful and intelligent flying foxes, with their fox-like facial features and russet back fur, are fascinating to watch. Jean was told by a former Miss Universe, who had stayed there for just one night, that Tano has 'too much nature'.
The shower is built into a remnant of ruin and has space for an entire football team. The toilet is new, bright and breezy.
Intro to the tree-houses | No1 - Tree-house | No2 - Tree-house | No3 - Tree-house | No4 - Tree-house | No5 - Tree-house | No6 - Garden Room | No7 - Tree-house |