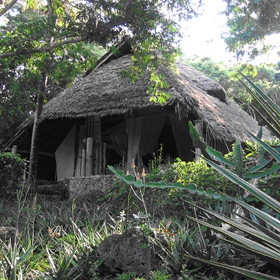 The only house at Chole Mjini that is not raised up is the ground-house, is No.6, or Sita…
No6 - Garden Room
The garden room at Chole Mjini, No6 or Sita, was built to cater for families with small children, or for anyone afraid of a tree house, or anyone who absolutely requires a flush toilet. It has the only flushing toilet on the whole island.
Sita is very large and on three levels, with a double bed at the top, two Zanzibari beds on the next level, and a day bed on the porch another few steps lower.
It has a sunken, mosaic bath (the size of some lodges' small plunge-pools, and effectively a 'micro' swimming pool for small children), a shower, and of course that en-suite toilet.
The garden room is open to large gardens on either side, leading to the mangroves. Although it is the closest house to the bar and restaurant it is still totally private thanks to strategically planted hedges and full-height curtains.
Jean and Anne spent three month living in the ground house, while their own house at Chole Mjini was being extended, and they were very reluctant to move out. Jean thinks it is perfect for a young family.
Intro to the tree-houses | No1 - Tree-house | No2 - Tree-house | No3 - Tree-house | No4 - Tree-house | No5 - Tree-house | No6 - Garden Room | No7 - Tree-house |