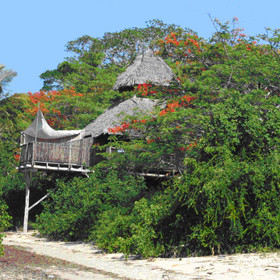 Tree-house Saba, at Chole Mjini, is one of the largest rooms - built in a lovely flamboyant tree.
No7 - Tree-house
Tree house no7, or Saba, has been the most popular tree house at Chole Mjini from the day it was finished. Chole's owner, Jean, admits that the reasons for this escape him. He maintains that Saba is gorgeous but no more so than
Nne
,
Mbili
,
Moja
, his favorites
Tatu
and
Sita
... and Jean does like
Tano
a lot, too.
Saba is one of the biggest tree houses at Chole Mjini, and can easily accommodate two adults and two children. It has a lovely flamboyant tree and also incorporates some of the ruins – giving it a great atmosphere. Its tea house offers fabulous sunset views over the beach and often attracts a cooling breeze. It also has a large sundeck over the beach. The toilet is new, light and airy and there is a shower.
This is the only tree house at Chole Mjini with a good view of Mafia Island, across the water. Jean maintains that the electric lights to be seen in the distance have caused the fireflies to disappear from the mangroves in front of Saba.
On the down side, Saba is right on the beach, so can sometimes be a little noisy in the morning, when the fishermen leave or return – but then that also lends character.
Intro to the tree-houses | No1 - Tree-house | No2 - Tree-house | No3 - Tree-house | No4 - Tree-house | No5 - Tree-house | No6 - Garden Room | No7 - Tree-house |