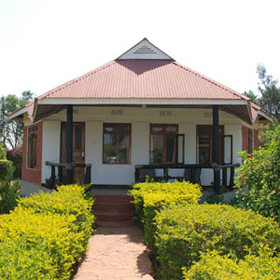 The bungalows are set in the gardens of the lodge...
Bungalow
Bougainvillea's bungalows are spaced out around well-kept gardens. They are spacious and comfortable, with a very large bedroom inside. There is plenty of room in here to relax – with wicker chairs set around an exposed stone fireplace, and a handy fridge/mini-bar nearby. This open fire is a feature of all of the bungalows; it can be lit on request. (Very valuable as it can sometimes get very cold here!)

The beds are all four-poster, king-size beds, covered with mosquito nets. In keeping with the rest of the lodge, the rooms are light, spacious and airy. The walls are white, keeping the room fairly bright, whilst the ceilings have a darker, traditional, wooden design - adding an individual touch.

Each room also has its own veranda looking out onto the gardens. All of the rooms also have torches which should be used at night when walking from your room through the gardens to the dining room / bar area.

There are two family rooms - each consists of two interconnecting rooms, which are decorated in the same way as the other rooms. Each room is fundamentally the same as the others at the lodge and is still ensuite – but has the advantage of interconnecting doors for families.

All of the rooms are have an en suite bathroom. In keeping with the style of the bedrooms, they are spacious, simple and well presented. The bathrooms are clean, have a hot water shower and a flush toilet. There are a few complimentary toiletries, and clean towels are provided.