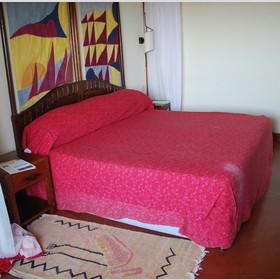 Bedrooms at the Serena are simple and colourful - they make a good base for a night
Bedroom
The bedrooms at Lake Manyara Serena Lodge are comfortable but impersonal: practical bases for a night. Their thick, white, stone walls are clad with dense creepers and topped with thatch. The rooms are all close together; some in double-storey units. To get the best view of Lake Manyara, we recommend the first-floor rooms, which come with a small veranda.

Inside, each is quite simple with white walls and floors of rust-coloured stone. A red bedspread adorns the bed (which can be double or twin), framed by a mosquito net and backed by a vibrant wall hanging. A rug lies in front of a dark wood bedside table and there are a couple of bedside lights. Each bedroom has a telephone, a wooden cupboard, a small chair and mosquito spray.

Equally simple are the en-suite bathrooms. In each, a kidney-shaped mirror hangs over the sink, which is set into a wooden surround laid out with complimentary toiletries. A white-tiled shower, flush toilet and a hairdryer complete the package.