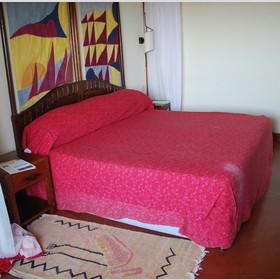 Bedrooms at the Serena are simple and colourful - they make a good base for a night
Bedroom
The rooms at Lake Manyara Serena Lodge are comfortable, rather impersonal, practical bases for a night. Their thick, white, stone walls are clad with dense creepers and topped with thatch. The rooms are all close together, some in double-storey units. To get the best view of Lake Manyara, we recommend the first-floor rooms, which come with a small, half-crescent veranda about 3m long and a maximum of 1.5m wide, set with two directors' chairs. The fan table from the room can be taken outside.
Inside, each room is quite simple with white walls and floors of polished red cement or blue tiles (changing to the latter being the general plan). A red bedspread adorns the bed (which can be double or twin), framed by a mosquito net and backed by a vibrant wall hanging. A rug lies in front of a dark wood bedside table and there are a couple of bedside lights. Each bedroom has an internal, a wooden cupboard, a small chair and mosquito spray.
Equally simple are the en-suite, 2.5m x 2.5m bathroom-loo combinations. In each, a kidney-shaped mirror hangs over the basin, which is set into a wooden surround laid out with complimentary toiletries. A white-tiled shower (no bath tub), flush toilet and a hairdryer complete the facilities.
Bedroom | Suite |