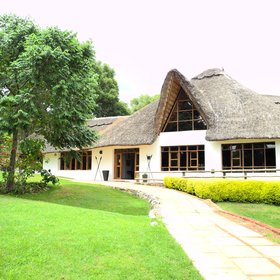 Ngorongoro Farmhouse is a pretty haven, conveniently close to the Ngorogoro Crater.
Cottages
The rooms are inside semi-detached cottages, which are spread amongst the extensive gardens of Ngorongoro Farmhouse Lodge. From the outside the cottages look rustic, with red mud walls and green tin roofs. Inside they feel slightly more like a cosy farmhouse.

The rooms Ngorongoro Farmhouse Lodge are spacious, with polished stone floors, white-washed walls and high, wood-paneled ceilings. In one corner sits a large four-poster bed draped in mosquito netting, in the opposite corner is a stone fireplace which can be lit on request.

In front of the fireplace is a small lounging area, with a pair of comfortable armchairs. There is also a wonderful Zanzibari coffee table, which is intricately carved and has coffee beans set under the glass.

Rustic coloured bedspreads and rugs on the floor add some character to the rooms, as do the rather old-fashioned yet beautifully made tapestries that hang on the walls.

All the rooms at Ngorongoro Farmhouse Lodge have UK-style 3-pin plug sockets; hairdryers can be borrowed from reception. The rooms also have umbrellas, a torch and a phone.

All of the rooms look out over the farm and the front veranda is a great place to sit and take in these views. The cottages are semi-detached and so the veranda is shared with another room, but a small red-mud wall acts as a partial division for added privacy.

The bedrooms at Ngorongoro Farmhouse Lodge feel very cool and natural, using rustic colours for the décor and soft furnishings. In a way the rooms are quite simply furnished, but it is to great effect and the result is uncluttered and spacious.

The en-suite bathrooms at Ngorongoro Farmhouse Lodge, have red tiled floors, and white tiled walls. They are relatively small and functional – each with a flush toilet, hot-and-cold-shower and a sink. Simple toiletries are also provided.

The triple rooms here have the added bonus of a bath and a substantially larger bathroom. Apart from that they are broadly similar.