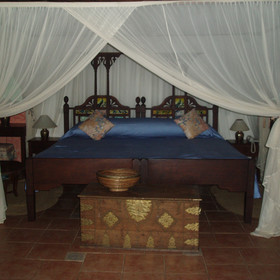 The bedrooms at Amani Beach are decorated using traditional Swahili furniture.
Stone cottage
The large individual cottages at Amani Beach have white-washed walls and thatch roofs. The large, tiled verandas extend out onto the lawn and house a hammock, which is the perfect place to relax and read a book.

Going inside, through the large French widows, you'll find a spacious and airy bedroom. These rooms have air-conditioning and a fan, and so are delightfully cool during the day.

The rooms at Amani Beach have been put together using a mix of European and Africa materials. For example the tiles have come all the way from Germany and Italy. However most of the furniture, including the enormous beds and beautiful Zanzibari boxes, have been sourced locally.

The rooms are big enough to act as triples or even quadruples for families. They are certainly very spacious and are bright and breezy in feel.

The only thing that stops us from eulogizing more here is that, compared to some other beach rooms, these don't really seem to have any clear character. In fact, their style mixes traditional Zanzibari elements with more European aspects – which we don't feel works very well.

That said, the rooms here are very large, and fitted with quality furniture – so they're actually very good … provided that the slightly disparate mix of styles don't annoy your sensibilities.

The rooms at Amani Beach all have en-suite bathrooms which are adjacent to the bedrooms, accessed through a large arched doorway with shuttered doors. The bathrooms are tiled in continuation with the bedrooms and contain a bath and a separate shower, both with hot-and-cold water. To one side, through a door for privacy, is the toilet and bidet.