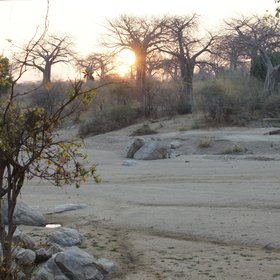 Mwagusi sits on a bend of the Ruaha River.
Tented banda
Mwagusi Camp's rooms, known as bandas, are spacious tented rooms encased within a larger reed-and-thatch building under thatch. This extends at the front, to incorporate an open-sided veranda, and at the back, to include the large en-suite bathroom.

Each banda is entered from the veranda, most of which are great vantage points to spot birds and other wildlife in the shady, riverside vegetation. These verandas are unique in design, depending on the room's location, but they share several features: all look out over the (usually dry) river and offer a large built-in sunken seating area with cushions and a sofa. Some of them also have a hammock.

Inside are large, comfortable beds, a writing desk and a bedside light. Brightly coloured throws and makuti mats on the floors offer colour and character. None of the features match perfectly or blend into a seamless uniform style – but this adds to the under-designed charm of Mwagusi. There is electricity for lighting, but no fans or air conditioning, though the combination of a thatched roof over the tent and the flow-through of air helps them to remain naturally fairly cool. You will not find any power sockets here, however cameras and phones can be charged in the office on request.

The large bathrooms at Mwagusi are built onto the back of each banda. The walls are made of rustically cut stone to about waist height, topped with thick reeds. They thoughtfully put together, quite unlike any others that we know of in Africa. Lovely touches include towel rails made of reclaimed driftwood cleverly built into the stone walls. It's worth noting that the wash basins have cold water only.

Between each tent and its en-suite bathroom is a large vestibule area – with space for hanging and folding clothes. The bathroom extends beyond, with a slight dividing wall between the flush toilet and hot shower.