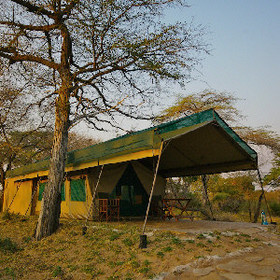 The permanent tents at Lake Manze...
Tented chalet
The tented rooms at Lake Manze Camp are all the same in build and style. They are all raised up slightly on earth mounds which stand above the floodplain and have good views across the lake. These mounds are covered in vegetation, and feel quite natural, and each one has been sited under its own cluster of shady borassus palm trees.

Each tent has its own veranda, which has been beautifully built out of large stone slabs. From here you can sit in a comfortable director's chair, making the most of your great views of the lake, and the animals that come to drink.

Inside each spacious walk-in tent is a double bed (or twin beds) with a wooden frame. There is also a large, lockable wooden chest for any valuables and a simple wrought-iron frame with canvas shelves for clothes storage.

Large insect-screen windows on all sides of the tent allow the breeze to pass through. There is bug spray in the tents, as well as a whistle to attract attention in an emergency.

Through the back of the tent is an open-air en-suite bathroom with canvas walls for privacy. There is a wash basin set into a large wooden surface, with running water and a mirror. Behind this, separated off by an inner canvas wall, is the flush toilet and hot shower. The shower and toilet are both on raised wooden slats frames. Soap, but not shampoo, is provided.

The bathroom is simple and practical, with the shower and loo having no roof, but it's all you really need in the middle of the bush.