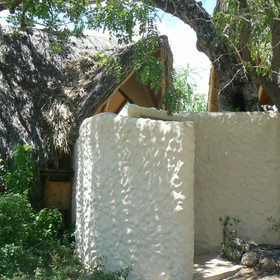 There are a few different catagories of rooms at Sand Rivers...
Thatched room
Sand Rivers has 5 standard rooms and 3 suites. Both are very similar in terms of design and style, however the suites have their own private plunge pools, and one, Rhino House, even has its own private kitchen so guests don't even need to leave their room for meals.

All are very large and airy - they're open-fronted with white stone floors, plenty of light and breeze and great views.

A huge bed (which can be made into twins and triples in all except Rhino House) is covered by a mosquito net as well as a ceiling fan. Plug sockets are dotted around for recharging batteries. A desk with a mirror stands behind the bed, and there is plenty of space for hanging your clothes.

The rooms all have spacious en-suite bathrooms, which are open-plan with a proper flush toilet and hot shower. A mirror hangs above the white ceramic sink and when we were last there Sand Rivers provided complementary toiletries. In the suites there are intriguing rock showers with stunning views, and all are large and interesting.