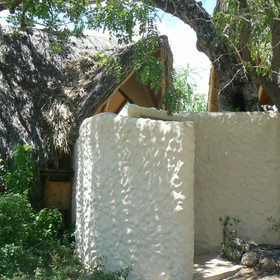 There are standard rooms and suites at Sand Rivers.
Thatched room
Sand Rivers has 5 standard rooms and 3 suites. They are similar in terms of design and style, however the suites have private plunge pools. Between the standard rooms, #1 and #2 are more 'jungly' in feel, while #3–5 are more open. Suite #1 is on a prominent ledge, while Suite #2 is built on flatter ground.

All the rooms are large and airy - they're open-fronted with pale floors of stone or polished cement, plenty of light and breeze and great views.

The large bed (which can be set up as a twin in most rooms) is covered by a mosquito net as well as a ceiling fan. Electric sockets are dotted around for recharging batteries. A desk with a mirror stands behind the bed, and there is plenty of clothes storage space.

The rooms all have spacious en-suite bathrooms, which are open-plan with a flush toilet and hot shower. A mirror hangs above the white ceramic basin and high-quality toiletries are provided. In the suites there are intriguing rock showers with stunning views.