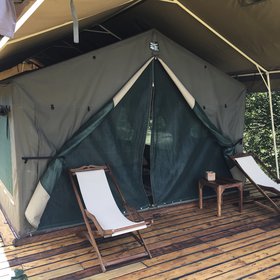 Selous Impala's tents are sturdy, traditional safari tents…
Tented rooms
Walk a short way through the acacia woodland, to your privately located tent on the river. Raised up on decking, each tent has veranda and two comfortable chairs and a table from where you can enjoy a lovely view of the Rufiji River and land beyond.

Impala Camp's tents are reasonably spacious with wooden floors, large and very comfortable beds with kikoi-style bedspreads and a writing desk. Much use is made of colourful, local fabrics to create a comfortable feel. Each room has a fan, electricity and a useful power point, with a UK style plug socket. There is also an electronic safe in every room.

Impala's tents all have large insect screen windows with canvas flaps that can be let down for increased privacy. These help to protect against the mosquitoes, though even we visited when it was raining steadily, there are so few that nets are hardly necessary.

As you walk through to the back of each of Impala's tents, you pass through kikoi-style curtains into a spacious en-suite bathroom. Here you find large white ceramic twin wash basins set into a beautiful wooden surface.

Behind a partition is a proper flush toilet and then behind a second partition, on the other side, a hot shower. There is also hanging space for your clothes. Little touches such as soap, mosquito spray, shampoo and shower gel are welcome additions.