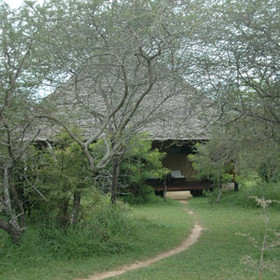 The tents at Siwandu are private...
Tented room
The bedrooms at Siwandu are permanent tents on slightly raised platforms, under a thatched roof. To maximize air-flow, the tents are octagonal in shape. They are large private rooms, each with a pleasant view of the river and with a comfortable sofa, writing desk and small table on your own private veranda.

Natural reds and yellows are used throughout the rooms which results in a simple yet stylish feel, whilst subtle touches such as a full length mirror make the room feel really quite luxurious. The furniture is locally-made, and includes a wardrobe and dresser (with safe). Decoration comes from a selection of artefacts from different ethnicities found in Zanzibar.

There are also convenient power points where you can charge any batteries using a standard English plug. For hot nights there is also a cooling fan, but no air conditioning.

The bathroom is really just an extension of the bedroom, however there is a canvas partition that can be let down for privacy. The 'his and hers' sinks are deep brass bowls and there is also a proper flush toilet.
Step right through the bathroom into the outside shower, where you will find all the toiletries you need and plenty of warm water. Most showers have a view to the water, and passing game.