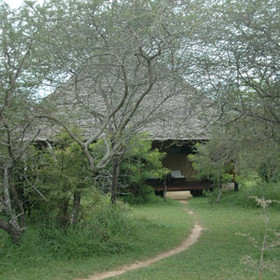 The tents at Siwandu are private...
Tented room
The octagonal tented rooms in both the north and south parts of Siwandu are identical: permanent tents on slightly raised platforms, under thatched roofs. Their unusual shape maximises air flow. These are large, private ensuite tented rooms, each with a pleasant view of the lake and with a comfortable sofa, writing desk and small table on your own spacious veranda. They can all be set up as a double or twin, and can easily take extra beds if necessary. In South Camp, tent #3 has a good view out across the lake, as does #4 (from both front and side), while tents #6 and #7 are the closest to the South Camp central areas and the ones to choose if you want to have the shortest walk to meals, drinks and socialising.

Natural reds and yellows are used throughout the rooms, resulting in a simple, stylish feel, while subtle touches such as full-length mirrors adding a tone of luxury.. The furniture is locally made, and includes a bed, wardrobe and dresser with a digital safe. The décor is enhanced by selection of artefacts from around Zanzibar.

Each room has convenient power points where you can charge batteries using a multiplug adaptor (UK, European and American). For hot nights there is also a cooling fan, but no air conditioning. There are no mosquito nets over the beds, but the windows are mesh-covered, so the whole room is essentially insect-proof. The Siwandu area seems mercifully free of tsetses and has few mosquitos.

The spacious bathroom is an extension of the bedroom, with a canvas partition that can be let down for privacy, double basins (deep brass bowls) and and a standard flush toilet. Stepping through the bathroom you reach the outside shower area itself, and in most of the rooms these have views down to the lakeshore, and the sight of passing wildlife. The shower areas have good toiletries – very nice shower gel, conditioner and shampoo – and plenty of warm water.