Useful links featuring Lemala Ewanjan

Download a PDF...
To read what we say in our brochure, click on the link to download the brochure section including Lemala Ewanjan. To save a copy onto your computer, right-click on the link and select 'Save Target as...'.
Lemala Ewanjan is often combined with:
Sort by:
Name


|
% of trips


|
Traveller's rating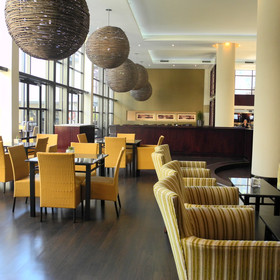 City Lodge OR Tambo
|
100%
|

About 300m from 'International Arrivals' at Johannesburg's OR Tambo International Airport, the City Lodge, which opened in 2010, is a modern hotel with 303 rooms. It's one of two hotels within the immediate airport complex (the other being the InterContinental), making ...
Read more about City Lodge JNB
Kigali Serena Hotel
|
100%
|


Serena Hotels took over the operation of Kigali InterContinental Hotel on 1st February 2007, renaming it the Kigali Serena Hotel. They extensively renovated it into a large up-market hotel with plenty of modern facilities. Located just 10 kilometers from Kigali airport, ...
Read more about Kigali Serena Hotel
Serengeti Walking Mobile Camp
|
50%
|


The Serengeti National Park is one of the best wildlife destinations in Africa – attracting so many visitors that some roads become congested. However, only a small portion of this vast park is accessed by road by the majority of safari operators. Thus with a little know-how, ...
Read more about Serengeti Walking Mobile
Serengeti Green Camp
|
50%
|

Most of the Serengeti's camps are substantial; they are semi-permanent and stand for much longer than your visit! The Serengeti Green Camp is different: it is smaller and simpler. With much more modest tents than most operations, and usually just one or two staff for the ...
Read more about Serengeti Green Camp
Kimondo Camp
|
50%
|


Kimondo Camp, previously known as Olakira Lamai Camp, is the new sister camp to Olakira Camp, located south of the Mara River, and is very similar in style and design. Similar to Olakira Camp, Kimondo Camp moves location during the year. It is situated in the Lamai Wedge, ...
Read more about Kimondo Camp
Lake Masek Tented Camp
|
50%
|

Named for the lake it overlooks, Lake Masek Tented Camp is located just south of the border of southern Serengeti National Park and northwest Ngorongoro Conservation area. This area, known as Ndutu after another lake nearby, sees the wildebeest migration pass through in ...
Read more about Lake Masek Tented Camp
Southern Sun Dar
|
50%
|

The Southern Sun is located in Dar es Salaam's town centre, making it very convenient for those who only have a short stay in the city. With an outdoor pool, restaurant, fitness centre and variety of other facilities, it is a pleasant and good value hotel. Southern Sun ...
Read more about Southern Sun
Gibb's Farm
|
50%
|

Originally built by German settlers in 1929, Gibb's Farm is one of Northern Tanzania's oldest guesthouses. Located half way between Lake Manyara and Ngorongoro Crater, it's surrounded by tropical gardens and has great views over a coffee-plantation. On arrival, guests ...
Read more about Gibbs Farm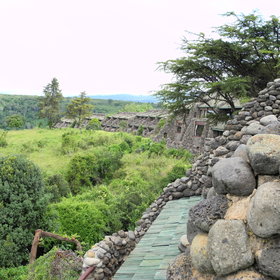 Ngorongoro Serena Safari Lodge
|
50%
|

The Ngorongoro Serena Safari Lodge is a 75-room hotel, built in 1996, with a truly marvelous location: it's built into the western rim of Tanzania's UNESCO-listed Ngorongoro Crater. It's usually used as a base for visits into the crater, and has views of the magnificent ...
Read more about Ngorongoro Serena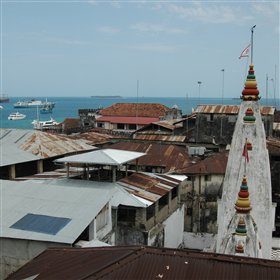 Zanzibar Coffee House
|
50%
|

The small Zanzibar Coffee House Hotel sits above a coffee shop down one of Stone Town's narrow streets. All their coffee comes from the owner's plantation in southern Tanzania. The beans are roasted on site at the hotel, and as a result the entire hotel has a lovely aroma...
Read more about Zanzibar Coffee House
Gorilla Mountain View Lodge
|
50%
|


The newest mid-range hotel in the Volcanoes National Park is the Gorilla Mountain View Lodge. The owners of the lodge are the former owners of the Mountain Gorilla's Nest. The Gorilla Mountain View Lodge has 20 individual cottages constructed out of brick and tile – another ...
Read more about Gorilla Mountain View
Chumbe Island Lodge
|
50%
|


Chumbe Island is a tiny coral island about six miles by boat from Zanzibar Town. Many years ago, Tanzania's had a military base here and strictly restricted access to the surrounding ocean. Thus the area's coral remained untouched – even by local fishermen. After that, ...
Read more about Chumbe Island Lodge