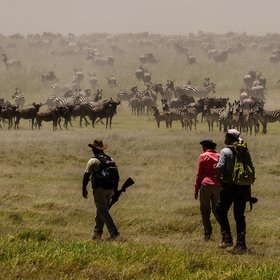 Serengeti Green Camp offers the opportunity to explore the Serengeti on foot.
Green Camp Description
Each Serengeti Green Camp is set up for the private use of one group: though the campsite itself will be shared with others! In some areas the same site may be used to set up camps for up to four different groups all using a central kitchen. However, these sites cover large areas and so, whilst you may be able to see another tent in the distance, there is generally a couple of hundred metres between camps and each will have its own private facilities.

Accommodation is in canvas dome tents usually measuring 2.5 x 2.5m with space to stand up in the middle. The tents typically have three windows and a zip-up door (some tents are larger but only have two windows). Furnished with thick mattresses, linen, duvets, pillow and blankets, these tents are perfectly comfortable. Each has a battery-operated light above the door and a solar-charged lantern by the bed. Netting is staked out under the tent's awning to create a porch where you can relax in a camp chair between activities.

A canvas washbasin is filled with water – warm in the mornings and cool during the day – and set in a wooden frame stands outside each tent. A short distance from the tents is the bathroom: a canvas structure with two compartments: one houses a bucket shower and the other a bush toilet. Whenever you want a shower, you just ask the camp assistant. S/he will heat the water over the fire, and fill the bucket for you – leaving you to simply stand underneath and turn the nozzle for a hot shower. A box with in-built seat, over a dug pit, forms the bush toilet which is 'flushed' using small buckets of dirt.

At the heart of each camp, a dining tent with one open side provides both shade and sheltered dining in the unlikely event of rain. It is also where water and cool drinks are readily available. Nearby is a campfire surrounded by canvas chairs, where you will meet for breakfast and pre-dinner drinks. Each night the camp is lit by paraffin lanterns hung on metal stakes.

A team of camp staff takes on all the camp chores whilst you concentrate on wildlife viewing with your guide. A chef prepares fresh meals of a surprisingly good standard, especially given that they are all prepared over a camp fire and in a makeshift oven. These are served at a table set up in various locations around the camp, often under the stars!