Siankaba Add-on: In full
This is a 2-night trip to stay on an island in the Zambezi River, staying at the Islands of Siankaba, upstream of Victoria Falls. It is under an hours' drive from Siankaba to the great waterfall, and a guided trip here by 4WD is included in your stay.

This particular trip to Siankaba has been designed to dovetail seamlessly with our safaris in Botswana; we've illustrated it here as being the start of the trip, before the Botswana safari. However, a stay like this at the Islands of Siankaba could just as easily be combined into a safari in Zambia or Zimbabwe.

Click on the Prices & details tab above for comments on this – and call us for a detailed trip quote our advice.

We've worked out this particular trip as a 2-night stay, mainly so that you can compare it easily with our other 2-night stays in the Falls area. That said, if asked we'd usually tell you that spending 2 nights at Siankaba is really a bit short given this lodge's distance from the falls; we'd suggest that if you visit, then you should seriously consider staying here for 3 nights.

Include:
---
Days 1-2
2 nights at Islands of Siankaba (full board & activities) | Livingstone & Victoria Falls, Zambia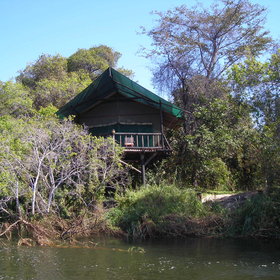 Starting at Livingstone Airport, in Zambia, you'll be met and transferred to Islands of Siankaba by road and boat for your 2 night stay. During your time on these idyllic islands you can spend time bird watching, boating, fishing and on guided nature trails or travel further afield to visit a local village and the Victoria Falls. As an additional extra, the adventurous will find adrenaline activities, including white-water rafting and bungee-jumping, readily available in the area.
---
Day 3
At the end of your stay, you will leave the island for the last time and be transferred, by road, and then speedboat, and then road (it's surprisingly smooth and often very interesting!) to Kasane, in northern Botswana.
From here, we can easily arrange for you to continue onto any of our
Botswana safaris
- just ask us to discuss the many options with you.
---
See Prices & details for the precise dates/prices for this trip - and all the fine print.