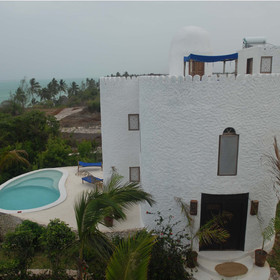 These suites are very impressive...
Kusi-Kaskazi suites
The
Kusi Suite
and the
Kaskazi Suite
are the flagship suites for Shooting Star. They are named after the trade winds that alternately buffet the island - the Kusi from south and the Kaskazi from the north.
Both resemble a fort and stand on a hill overlooking the existing
Sea View Cottages
at Shooting Star, and are reached via a sandy path through the tropical garden. Both of the suites are set in private gardens.
Each suite is entered through a pair of impressive carved Zanzibari doors, and has simple, but high quality finishes and antique furniture; each is air-conditioned.
The ground floor has a huge hallway, which opens onto a large terraced exterior veranda with a private swimming pool. A shower and a toilet are reached from the hallway. Extra beds can be added to enable the hallway to be made into an additional bedroom, with either double or twin beds. There is a large walk in wardrobe with fitted shelves and rails. In here, is a well-stocked fridge cum minibar. There is also a selection of nibbles and fruit.
The verandah and pool-deck have dining and lounging areas, as well as a kitchen space so that the lodge's chefs can prepare private meals if required.
The first floor is reached up a curved staircase, reminiscent of Shooting Star's existing family cottages; it houses the master bedroom suite. The bedroom itself covers about 40sq m, and has magnificent panoramic views both up and down the coast. The windows have shutters as well as glass, so if you prefer the ocean breeze to the air-con, the choice is yours.
The large beds are 2m wide, hung with mosquito nets, and are of a traditional Zanzibari-style, fitted with batik and cream linen. There is a large shower and separate toilet adjoining, with separate double vanity basins. A walk-in wardrobe is found in the hallway.
The stairs continue upwards to a roof terrace. Here is the perfect place to relax in the evening, with views from the flat roof which mean that you can watch the sun set over the island, and rise over the Ocean.
Zanzibar's fantastically starry skies have inspired the team here to furnish the roof with a fully-netted bed, so that you can sleep up here and spend a night under the stars. The terrace also has a huge bath on the roof, for those who enjoy a little alfresco splashing around.
Garden View Cottage | Kusi-Kaskazi suites | Sea-view Cottage |