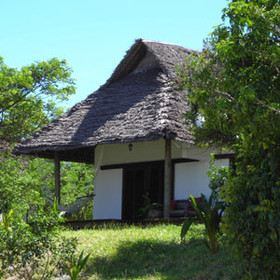 Fumba has just 4 luxury suites, all overlooking the Indian Ocean
Luxury Suite
The Luxury Suites at Fumba Beach Lodge are similar in style to the
Deluxe Rooms
, though quite a bit larger. They each have a very large bathroom, with double outside shower and inside bath with a view, and a large private deck and a roof terrace.
The bedrooms of the suites are very spacious, with lovely polished stone floors and white-washed walls. Each room has a king-sized bed above which hangs mosquito netting and a fan. The beds are covered in brightly-colored throws and cushions, and each day a clean folded dressing gown made from a traditional kanga is placed at the end.
The room is furnished with an enormous built-in wardrobe behind the bed, where there is plenty of space for storing clothes, as well as a lounging chair and a writing desk. Little touches such as sweet-smelling cinnamon sticks on the desk, and a traditional Zanzibari fable left on our beds each night for bedtime reading, add a lovely, relaxing atmosphere to these rooms.
Through large sliding doors is the private wooden decking with great views out over the ocean and a comfortable hammock hanging in the shade. The rooms are fairly close together, but for a bit more privacy, round to the side of the suite, a set of stairs leads up to a small roof terrace. Here you will find an even better view, comfortable sofas, brightly-coloured flowers and plenty of shade for the heat of the day. Alternatively just head down to the beach in front of the room and relax on one of the many loungers dotted along there.
The large and beautiful en-suite bathroom sits behind wooden sliding doors. There is a wonderful stone bath which sits in front of a large picture-window which opens out to views across the sea. His-and-hers sinks are set in a carved wooden ledge in front of a large Zanzibari mirror. Whilst the little things, such as a charming natural mobile above the bath made from corals and shells, complete the finishing touches. Outside through a further sliding door, surrounded by bamboo canes and vegetation for privacy, is a double rainfall shower, with some simple toiletries provided.
Baobab Suite | Deluxe Rooms | Luxury Suite |