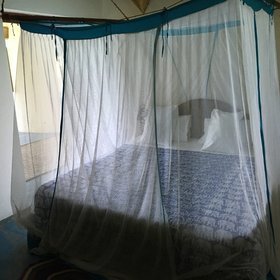 The beds have mosquito nets…
Family Seaview Villa
The two family villas has the same construction and design as the other villas, but have a slightly different layout.
At the rear of the villas on the ground floor is the main bedroom with en-suite facilities. Next to this is a lounge and kitchenette
Upstairs, there is a small lounge, and two bedrooms, each with twin beds and en suite facilities.
The bathroom is a simple, sparse, elegant space with walls and shelves to provide a large shower area and washbasin. Local toiletries, soft towels and kikoys and kangas are provided.
Baobab or Seaview Villa | Family Seaview Villa |