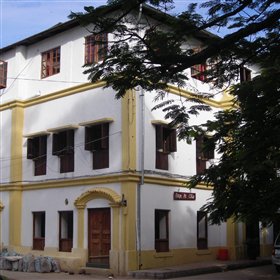 The Beyt al Salaam is a beautiful old tea house both small and intimate…
Prince Room
There are three Prince Rooms at the Beyt al Salaam, all of which are of a decent size and extremely comfortable. They each have views out across the square, a spacious en-suite bathroom and air-conditioning.
When we were last there the room
Beyt el Sahel
was decorated in natural green colours, with a large Zanzibari bed, a small sofa and writing desk.
The
Beyt al Hukum
is also a relatively large room which is beautiful and bright. It has highly polished wooden floors, a large Zanzibari bed and is decorated in soft blue colours.
Beyt al Ras
is the only room at Beyt al Chai which has twin beds. It is decorated with green walls and soft furnishings, with stone floors and dark Zanzibari furniture.
The en-suite bathrooms all have a hot-and-cold shower, a flush toilet and a sink.
Prince Room | Princess Room | Sultan Room |