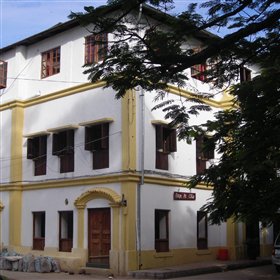 The Beyt al Salaam is a beautiful old tea house both small and intimate…
Princess Room
The Princess Room also known as the
Beyt al Dal
, is beautifully decorated, with highly polished floors, Zanzibari furniture and bright soft furnishings.
It is styled with high quality soft furnishings and has air-conditioning; though unfortunately it is set at the back of the hotel so doesn't have a view. It is also very small; we don't recommend it to our travellers.
The Princess Room has a small en-suite bathroom which is nicely painted and spotlessly clean. The hot-and-cold shower is molded out of stone and there is a flush toilet and a sink.
Prince Room | Princess Room | Sultan Room |