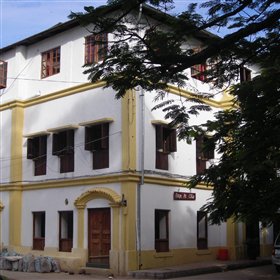 The Beyt al Salaam is a beautiful old tea house both small and intimate…
Sultan Room
There are two Sultan rooms at Beyt al Salaam and these are the largest and most spectacular of all the rooms. Both have air-conditioning and mosquito nets as well as plenty of space, dark Zanzibari furniture and colourful silk soft furnishings. They also share lovely views across the square in front of the hotel, through large glass windows.
The
Beyt al Ajaib
is beautifully styled with highly polished stone floors, deep red curtains and a matching throw spread across the double bed. There is a pair of comfortable lounge chairs and a table in the room, as well as a Zanzibari wardrobe for hanging your clothes. The en-suite bathroom is in the corner of the room, with a fantastic stone corner bath, a toilet and a sink.
The second Sultan Room, the
Beyt al Chai
, is also a beautiful room. It is decorated in blue colours, with Zanzibari furniture, including a huge double bed. The large en-suite bathroom has a flush toilet, a sink and a huge hot-and-cold shower.
Prince Room | Princess Room | Sultan Room |