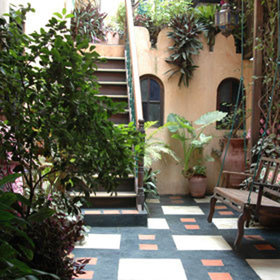 Emerson on Hurumzi boutique hotel is right in the heart of Stone Town in Zanzibar.
Standard Room
The concept of a 'standard room' at Emerson on Hurumzi is something of a contradiction, since each is unique in design, but these eight rooms – the South Room, the North Room, the East Room, the West Room, the Rose Room, the Blue Room, and the Seyyed Room – are comparable in cost.
They also share a similar style, capturing the period of the Zanzibari sultans, with beautifully crafted dark wooden furniture and highly polished stone floors. Soft furnishings are in sumptuous colours and wide casement windows open right out to let in plenty of light.
The Rose, Blue and Seyyed rooms all have air conditioning, whereas North, South, East and West do not. Having said this, all have ceiling fans, and the external 'walls' in North, South East and West are constructed from wooden latticework, allowing a cool breeze to pass through the room.
Each room has a small seating area with an antique sofa, and often a low Zanzibari coffee table. Some rooms also have a private balcony from where you can sit and take in the sights of Stone Town.
The
bathrooms
are beautiful and colourful rooms with stone floors. As well as a flush toilet and a sink, most have a deep stone 'hammam' bath.
Standard Room | Suite |