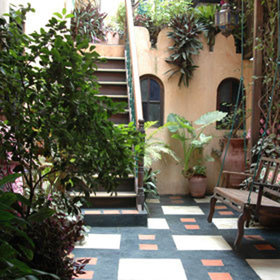 236 Hurumzi boutique hotel is right in the heart of Stone Town in Zanzibar.
Standard Room
All of the rooms at 236 Hurumzi are totally unique in design, and so writing about a 'standard room' here is something of a contradiction. That said, nine of the room share the same cost, and these are the South Room, the North Room, the East Room, the West Room, the Gallery, the Lavender Room, the Crystal Room, and the Zenana Room.
All share a similar Zanzibari style - with beautifully crafted dark wooden furniture and highly polished stone floors. The soft furnishings are deep sumptuous colours and wide shutter windows open right out to let in plenty of light.
Most of these rooms have air-conditioning (North, East and West do not have), though all of them have a ceiling fan. Drinking water is provided in all of the rooms, and each has an en-suite bathroom.
The bathrooms are also beautiful and colourful rooms with stone floors. Most have a deep stone bath with a shower head, or a shower, and hot-and-cold water, as well as a flush toilet and a sink.
For more precise details of the individual rooms, follow
this link
to the website of 236 Hurumzi.
Standard Room | Suite |