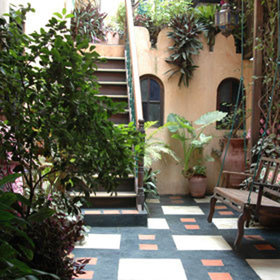 236 Hurumzi boutique hotel is right in the heart of Stone Town in Zanzibar.
Suite
As with the
Standard Rooms
, all of the seven suites at 236 Hurumzi are large, highly individual and quite spectacular. These are the Ballroom, the Suite Blue, the Suite Rose, the Suite Seyyed, the Suite Tour, the Suite Keep and the Pavilion Suite.
They are intricately designed with beautiful furniture, lovely stone floors and brightly coloured soft furnishings. The rooms aren't over-the-top and gaudy, like so many we have seen in Stone Town. But are instead beautifully atmospheric, and the little details (the bed covers match the lining on the mosquito nets!) make these rooms some of the most beautiful we have seen.
All of the suites have large double beds draped in mosquito netting and comfortable chairs or sofas for lounging in. The soft furnishings in the rooms all match perfectly – each room has their own individual colour scheme! Above the wooden shutters are vibrant stained glass windows and every suite has air-conditioning.
The suites at 236 Hurumzi all have an en-suite bathroom where you will find a vast stone bathtub with a shower head attached, a flush toilet and a sink. All of the bathrooms are beautifully crafted, with highly polished stone floors and brightly painted walls.
For more precise details of the individual rooms, follow
this link
to the website of 236 Hurumzi.
Standard Room | Suite |