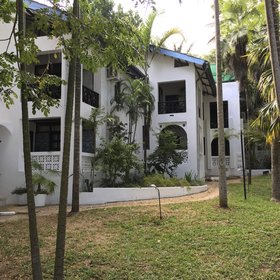 The 13 rooms at Mbweni Ruins Hotel are housed in a single block.
Standard Room
All the rooms at Mbweni are housed in a single, two-storey building. The rooms are laid out as miniature suites, with a little vestibule and desk, a separate en-suite bathroom and a small balcony with a table and a few chairs. The rooms have air-conditioning and are furnished either with twin beds, or with Zanzibar canopy double beds, two lounge chairs and a small Zanzibari table.

In the twin rooms, a ceiling-to-floor mosquito net screens off the bedroom end of the room from the small lounge area. In the doubles, the net hangs around the bed.

The bathrooms of the standard rooms are clean and functional, with hot showers behind a plastic drape, a single wash basin and a large mirror, and a flush toilet. Toiletries are provided. Like the rooms, the bathrooms could be improved a lot with some redecorating.

The rooms have white-washed walls and tiled floors, and were looking somewhat tired and dated when we last visited in 2016. They are reasonably comfortable, but certainly need a face lift.