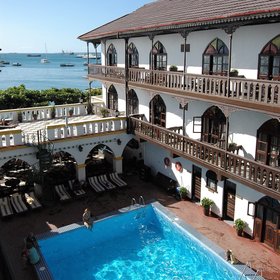 The location of the Tembo Hotel in the Shangani area of Stone Town...
Prime Room
Most of the Prime Rooms at the Tembo Hotel are reasonably light and airy with a view over the pool or the sea - though there are a number of rooms which face over the streets behind the hotel. All the rooms are quite compact and the rooms can be a little pokey. However it is fine for a one or two night stay.
Each room comes complete with a phone, satellite television, hairdryer, mini-bar and air-conditioning. On one of our recent visits another guest remarked that some of the appliances in their rooms didn't work properly.
The rooms are all furnished with dark Zanzibari pieces, including a dressing table, canopied beds and bed-side tables. There is also an outside balcony with a few chairs – this is a great place to relax and read whilst looking out over the sea.
The Prime Rooms at the Tembo are good value, and large windows let in lots of light. This detracts slightly from their small size and the end result is a reasonable room with a reasonable price tag.
The en-suite bathrooms at the Tembo are perfectly clean, though the tiling is rather dubious. The bathrooms are definitely not stylish, though they are perfectly functional, with a flush-toilet, sink and hot-and-cold- shower.
Deluxe Room | Prime Room |