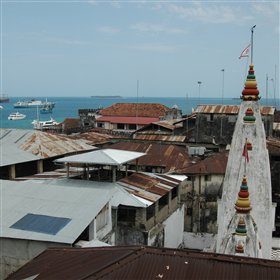 The Zanzibar Coffee House is set in the heart of Stone Town.
Suite
There are three suites at the Zanzibar Coffee House Hotel. The
Cappuccino Suite
and the
Arabica Suite
are large double rooms, each with its own en-suite bathroom. The
Bourbon Family Suite
is also a large double with an en-suite bathroom, though it also has an extra single room attached – perfect for a family.
Each of the suites are similar in style to the
Standard Rooms
, in that they are furnished with carved Zanzibari furniture, have polished stone floors and walls painted in muted natural colours. All are spotlessly clean, spacious, and light, with large windows and bright soft furnishings.
However the suites are much larger than the
Standard Rooms
, and each has a small lounging area for relaxing. It's so relaxing to sit here and while away the hours reading a book – that you're tempted to ignore the winding, fascinating streets of Stone Town below.
The en-suite bathrooms in the suites are simple yet attractively decorated in neutral colours. The rooms come complete with a sink, flush-toilet and a hot-and-cold shower. Then small touches, like candles sitting in antique brass holders and a carved mirror above the sink, add to the character of the room.
Standard Room | Suite |