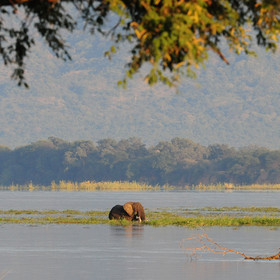 Mana Pools is located in the Lower Zambezi Valley
Latest Mana Pools National Park safari reviews
Great camp
15-Sep to 27-Sep 16
Excellent

Interesting trip to Goliath
6-Jul to 16-Jul 16
Good

Zambezi Life Styles review
27-May to 7-Jun 16
Excellent

Perfect for a Zambesi experience
28-May to 7-Jun 16
Excellent

Excellent service in a relaxed atmosphere
14-May to 17-May 16
Excellent

Mana Pools National Park
The mighty Zambezi River flows from Lake Kariba through the Lower Zambezi Valley, a huge rift in the earth's crust. Over the millennia the Zambezi has rushed through this valley creating islands, channels and sandbanks. Old river meanders, left in the mineral-rich volcanic soils, have formed into small ox-bow lakes surrounded by lush vegetation and tall old stands of mahogany and ebony. This abundance of water and luxuriant greenery accounts for the valley's wealth of big game.
In 1984, Mana became the first national park in Zimbabwe to be designated a UNESCO World Heritage Site. It has since been joined by four other Zimbabwean sites including
Victoria Falls
, the Great Zimbabwe Ruins, the Khami Ruins and
Matobo Hills National Park
.
There are beautiful national parks on opposite sides of the river here – Mana Pools National Park on the Zimbabwean bank, and the Lower Zambezi National Park on the Zambian side. Both have spectacular views of the mountains and the Rift Valley Escarpment.
The larger animals have no trouble in swimming between the two and this ensures equally good game in both parks. The undergrowth here is often sparse, so the land is perfect for walking safaris. On the water, canoe safaris are one of Zimbabwe's ultimate big game adventures, and a great way to see the valley.
During the rains, from January to March, the lodges here are closed and most of the big game animals move away from the river and into the escarpment. They start returning to the riverine areas from around April, as the pools in the bush dry up. As the year progresses, increasingly large herds of elephant and buffalo are seen, as well as kudu, eland, waterbuck, zebra, impala and many other antelope. There is a wide variety of birds and the game is very relaxed about people on foot, making Mana Pools one of Africa's best national parks for walking safaris.
Where to stay in Mana Pools
There are now three permanent camps here which we recommend, all accessible by light aircraft – and sometimes by transfers into the park along the road or river.
Ruckomechi Camp
Just outside of Mana Pools National Park's western boundary, Ruckomechi Camp has ten large reed and thatch chalets with en suite facilities. The camp was relocated a couple of years ago and the new location offers great views of both national parks on either side of the Zambezi. Ruckomechi Camp's guides conduct walking trips and game drives, as well as canoeing or fishing trips on the river. (
Read more about Ruckomechi Camp…
)
Vundu Camp
Nestled on the riverbank is a simple yet comfortable bush camp with seven tents where the emphasis is on professionalism, rather than luxury. Each tent has a porch, twin (or double) beds, and an en suite shower and a flushing toilet. There are many open living spaces, a bar, and a dining room which sits on a sandy patch right next to the river. Walks, drives and canoe excursions are all possible. (
Read more about Vundu Camp …
)
Kanga Bush Camp
Kanga Bush Camp is the newest addition to Mana Pools having only opened last year. It's located near the unspoilt Kanga Pan, allowing excellent wildlife-spotting opportunities with few other people around. The camp consists of 6 canvas tents overlooking the waterhole, and the activities here focus on 4WD safaris as well as walking into areas inaccessible by car. (
Read more about Kanga Bush Camp…
)