Useful links featuring Musango Safari Camp

Useful links...
We want you to understand more about Musango Safari Camp. We're not shy to direct you to their own website as we're confident that a trip there with us will cost you the same or less than booking it any other way, even directly. So follow the links below for more information.
Musango's Website
Click on the link to view Musango's website, including information on accomodation and activities, as well as a photo gallery.
Musango Safari Camp is often combined with:
Sort by:
Name


|
% of trips


|
Traveller's rating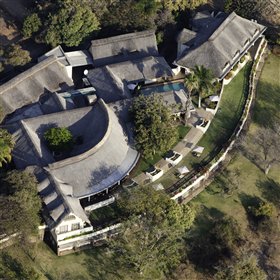 Ilala Lodge
|
58%
|

In a convenient location just 10 minutes' walk from the Victoria Falls themselves and even closer to the centre of Victoria Falls town, Ilala Lodge offers good quality, affordable rooms furnished in a comfortable and fairly timeless style. The accommodation at Ilala is ...
Read more about Ilala Lodge
Vundu Camp
|
42%
|

Vundu Camp is a small camp with a long-standing reputation. It lies amongst a grove of ebony and tamarind trees on the banks of the Zambezi River, in the heart of Mana Pools National Park. It's a landscape of tall evergreen trees and floodplains interspersed with oxbow ...
Read more about Vundu Camp
Little Makalolo Camp
|
33%
|


Overlooking a waterhole regularly frequented by big game, Little Makalolo Camp sits in a teak forest in the eastern region of Hwange National Park. It's a small, traditional-style camp in a remote and private concession area, which means that the game viewing is relatively exclusive...
Read more about Little Makalolo Camp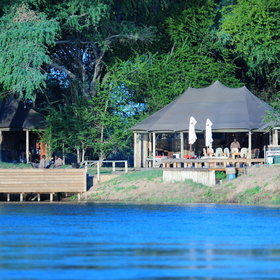 Ruckomechi Camp
|
25%
|


The smart Ruckomechi Camp spans nearly a kilometre of riverfront in a private concession just beside the northwest corner of Mana Pools National Park, where the vast Zambezi River flows against a backdrop of the Zambezi escarpment. This scenic location, coupled with a ...
Read more about Ruckomechi Camp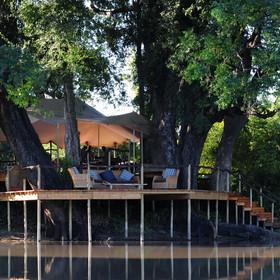 Kanga Bush Camp
|
25%
|


Located in one of the most remote parts of Mana Pools National Park, Kanga Bush Camp (often called simply 'Kanga Camp') lies on the isolated Kanga Pan, which is near the Ruckomechi River, about 15km (as the eagle flies) away from the Zambezi. It is the newest camp in the ...
Read more about Kanga Bush Camp
Camp Hwange
|
25%
|


Camp Hwange is located in the north-west of Hwange National Park, where the Kalahari's flat plains start to transition into rugged hills. Run by ZimPro guide David Carson, the camp has a distinct 'bush' feel to it, with an emphasis on the safari experience and top guiding...
Read more about Camp Hwange
The Hide
|
17%
|


The Hide is a small lodge, well positioned within a north-eastern annex of Hwange National Park. Independent and owner run, it benefits from both a popular waterhole in camp and very high game densities nearby. Expert Africa has been sending travellers here since the mid-1990s ...
Read more about The Hide
Somalisa Camp
|
8%
|

Situated on the eastern side of Hwange National Park, Somalisa Camp is a small, authentic bushcamp which lies amongst a grove of camelthorn acacias. An ancient, dried-up watercourse known as the Sumamalisa Vlei stretches across the face of the camp and provides a great ...
Read more about Somalisa Camp
Amalinda
|
8%
|


The owner-run Camp Amalinda sits in a 300-acre (1.2km2) private concession of the Matobo Hills National Park. In a spectacular setting amongst the ancient boulders of the hills, it's a comfortable lodge with buildings that have been cleverly designed into the rocks – lending ...
Read more about Amalinda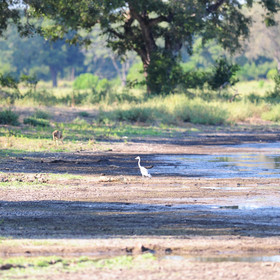 Goliath Safaris
|
8%
|


Goliath Safaris is one of the most established safari operators in Mana Pools National Park, with nearly 30 years' experience in the area. The company is part owned and run by Stretch Ferreira who, over this time, has gained a wealth of knowledge of the bush and its residents...
Read more about Goliath Safaris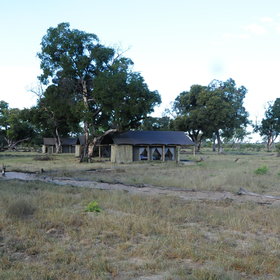 Davison's Camp
|
8%
|


Davison's Camp spreads out in the intermittent shade of a sparse woodland of African rosewood (Guibourtia coleosperma) trees, in the south-east Linkwasha Concession of Hwange National Park. The camp was named after Hwange's first head warden – Ted Davison, and it overlooks ...
Read more about Davison's Camp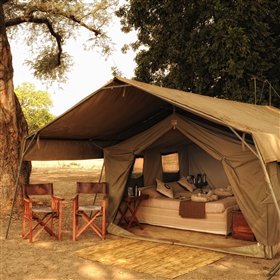 Zambezi Life Styles
|
8%
|

Zambezi Life Styles is a semi-permanent camp set up on the banks of the Zambezi River. No one from Expert Africa has yet visited this relatively new addition to the Mana Pools safari scene, but we've known the owner and operator for years, so are optimistic it'll match ...
Read more about Zambezi Life Styles
Hwange Mobile Camp
|
8%
|


There aren't any up-market permanent safari camps on the northern side of Hwange National Park, but at Expert Africa we're very excited to be able to arrange tailor-made mobile safaris here. The environment here is very different from Hwange's Kalahari sandveld further ...
Read more about Hwange Mobile Camp