Useful links featuring Rhino Safari Camp

Download a PDF...
To read what we say in our brochure, click on the link to download the brochure section including Rhino Safari Camp. To save a copy onto your computer, right-click on the link and select 'Save Target as...'.
Useful links...
We want you to understand more about Rhino Safari Camp. We're not shy to direct you to their own website as we're confident that a trip there with us will cost you the same or less than booking it any other way, even directly. So follow the links below for more information.
Rhino's own website
Clear and simple website - well worth looking at to get a feel for the camp.
Rhino Safari Camp is often combined with:
Sort by:
Name


|
% of trips


|
Traveller's rating


Vundu Camp
|
50%
|

Vundu Camp is a small camp with a long-standing reputation. It lies amongst a grove of ebony and tamarind trees on the banks of the Zambezi River, in the heart of Mana Pools National Park. It's a landscape of tall evergreen trees and floodplains interspersed with oxbow ...
Read more about Vundu Camp
The Hide
|
33%
|


The Hide is a small lodge, well positioned within a north-eastern annex of Hwange National Park. Independent and owner run, it benefits from both a popular waterhole in camp and very high game densities nearby. Expert Africa has been sending travellers here since the mid-1990s ...
Read more about The Hide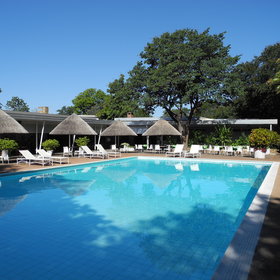 Sprayview Hotel
|
17%
|


Sprayview is the first hotel visitors come across when arriving in Victoria Falls Town from the airport, which is about a twenty-minute drive away. Although it's been around in one guise or another since the late 1960's the whole property is now managed by a large southern ...
Read more about Sprayview Hotel
Somalisa Camp
|
17%
|

Situated on the eastern side of Hwange National Park, Somalisa Camp is a small, authentic bushcamp which lies amongst a grove of camelthorn acacias. An ancient, dried-up watercourse known as the Sumamalisa Vlei stretches across the face of the camp and provides a great ...
Read more about Somalisa Camp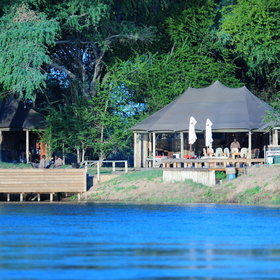 Ruckomechi Camp
|
17%
|


The smart Ruckomechi Camp spans nearly a kilometre of riverfront in a private concession just beside the northwest corner of Mana Pools National Park, where the vast Zambezi River flows against a backdrop of the Zambezi escarpment. This scenic location, coupled with a ...
Read more about Ruckomechi Camp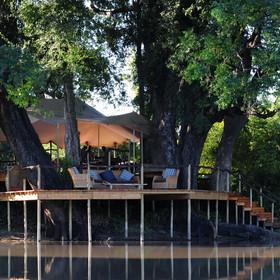 Kanga Bush Camp
|
17%
|


Located in one of the most remote parts of Mana Pools National Park, Kanga Bush Camp (often called simply 'Kanga Camp') lies on the isolated Kanga Pan, which is near the Ruckomechi River, about 15km (as the eagle flies) away from the Zambezi. It is the newest camp in the ...
Read more about Kanga Bush Camp
Camp Hwange
|
17%
|


Camp Hwange opened in April 2012 and is the latest safari offering from David Carson: a top ZimPro guide with enormous experience in the industry. Comfortable rather than opulent, the camp is set on a rise in a private concession of Hwange National Park, overlooking a waterhole ...
Read more about Camp Hwange
Hwange Mobile Camp
|
17%
|


There aren't any up-market permanent safari camps on the northern side of Hwange National Park, but at Expert Africa we're very excited to be able to arrange tailor-made mobile safaris here. The environment here is very different from Hwange's Kalahari sandveld further ...
Read more about Hwange Mobile Camp
Eight Reedbuck Hotel
|
17%
|

Anonymously sited in Lusaka's residential suburb of Kabulonga, number 8 Reedbuck Road seems like any other house on the road. However, inside Eight Reedbuck, its individual and flexible approach allows it to claim the title of Lusaka's first boutique hotel – even if a few ...
Read more about Eight Reedbuck Hotel