Rhino Camp Safari: In full
This safari spends three nights at Rhino Safari Camp situated on a small, semi-permanent island on Lake Kariba. This area attracts a variety of game including elephant and antelope. Drawn to the foreshore of the Lake by the sweet grazing and ready supply of water this high density of herbivores in turn attracts prides of lion and supports leopard, crocodile and hyena too.
Include:
---
Days 1-3
3 nights at Rhino Safari Camp (full board & activities) | Matusadona National Park, Zimbabwe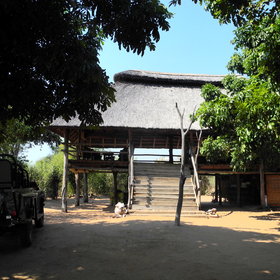 In Harare you'll board a light aircraft for your transfer to Rhokari Airstrip. A half-an-hour road and boat transfer then takes you on to begin your
3 night stay at Rhino Safari Camp
. At times this island is completely cut off from the mainland and at others it's reached by a 'bridge' of land. There's no electricity (although you can charge devices via solar charged batteries) and the lodge feels very remote. It's a great place to base yourself for the variety of activities on offer - spend the morning on a game drive and the afternoon on the lake trying a spot of fishing or just looking for game. Guided walks are also available too.
---
Day 4
After your time at Rhino Safari Camp you'll transfer by boat to Rhokari Airstrip. From here you'll catch your light aircraft transfer back to Harare, from where you'll be able to continue with further holiday arrangements or continue on to your final destination.
---
See Prices & details for the precise dates/prices for this trip - and all the fine print.