Abu Camp
Rooms
Six Tented Suites
Children
No children under 8 years of age.
Open
All year
Abu Camp is one of the most luxurious and expensive camps in Africa. For many years it was owned and sporadically run by its founder, the charismatic Randall Jay Moore. During this time it gained a reputation as the place to ride African elephants in a pristine wilderness environment and attracted the world's glitterati. Randall Moore has now moved on to pastures new but we don't envisage the up-market nature (or the price tag) of Abu disappearing any time soon given that the camp is now part-owned by Paul Allen (of Microsoft fame) and managed by Wilderness Safaris as one of their 'Collection' properties.
Our view of Abu Camp
Abu is one of Africa's most expensive and luxurious safari camps, containing just six tented suites - it's very exclusive. Apart from the opulence of the accommodation and the high levels of service on offer, the camp's major attraction is the resident herd of habituated elephant which guests are able to ride and walk with. This is a very unique experience indeed and, if budget allows, one well worth considering.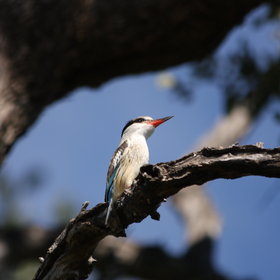 The Okavango Delta is renowned as a world-class wilderness of lagoons and waterways ...
Video of Abu Camp


Abu Camp introduces the little baby elephant Warona.


This is a short video about elephant riding at Abu Camp.