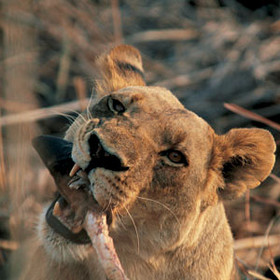 Nature, red in tooth and claw - a lioness in Selinda Reserve, Botswana
Wildlife safaris in Africa
Wildlife is Africa's biggest attraction for visitors and is crucial to many of our safaris and trips – so trying to pick just a few of the best places here is almost impossible. Ask us about what you'll see in the various countries; one of our team can always talk to you from personal experience – and be much more specific than we have space to write here.

Visitors on their first wildlife safari to Africa often head for areas with plenty of classic big game. We'd particularly recommend Etosha in Namibia; almost any of the reserves in northern Botswana; the South Luangwa, Lower Zambezi and Kafue in Zambia; the Selous and Ruaha in southern Tanzania; and all four main wildlife safari areas in northern Tanzania. Old Africa hands often have much more specific wildlife interests, on which we're always happy to advise, usually in considerable detail.

Many well-known species occur across the continent; here we'll highlight some of the best areas for particular species.

Lions are relatively common in most safari reserves; it's rare to return from a week's wildlife safari with us having not seen at least one pride! Quite often, in the more remote areas, guests will have a number of lion sightings, and the chance to watch them hunting or feeding. The exclusivity of many of these areas means that your wildlife experience will rarely be interrupted by other people or vehicles.

Leopards are very common throughout Africa, but often remain hidden. They're often nocturnal, so to maximise your chances of seeing them, night drives are essential. Consider the Lufupa area in northern Kafue, South Luangwa and the Lower Zambezi in Zambia, and the private reserves in northern Botswana.

Cheetah can be equally elusive, unless you're visiting a refuge like Okonjima. In the wild, the best cheetah sightings are probably in the Cape's Kgalagadi Transfrontier Park, Zambia's Busanga Plains, or Tanzania's Ruaha and Serengeti areas.

For your best chances of seeing wild dogs, you need vast open areas with no fences – and preferably open ground across which you can follow these far-ranging predators by 4WD. (Forget any reserve where you have to stick to the roads!) Top of your list should be the private safari reserves in northern Botswana, or possibly Tanzania's Selous. The Busanga Plains in Zambia's Kafue are also a possibility and, in recent years, dogs have been seen more and more frequently in South Luangwa, especially between about March and June.

Search for one of the region's rarer large carnivores, brown hyena, on Namibia's Skeleton Coast, or possibly in the Kalahari, at Jack's Camp, where researchers have habituated a local clan.

Rhino are much less common than they used to be, but have recovered from the brink of extinction in recent decades. The larger, relatively peaceful white rhino are plains grazers and best sought in the reserves in South Africa's Cape; in Namibia's Etosha National Park, often towards the east; and perhaps at Edo's Camp, in Botswana's Kalahari.

The slightly smaller and much more aggressive black rhinoare also easily seen in the evenings at the Okaukuejo waterhole in Etosha, in Tanzania's Ngorongoro Crater – and in Namibia's Damaraland, where the Desert Rhino Camp runs superb rhino-tracking wildlife safaris on foot.

Meerkat enthusiasts should seek out these entertaining creatures in the Kalahari. The Kgalagadi remains the best place to see them, although Jack's Camp and San Camp have a habituated troop, and a relaxed troop sometimes appears for breakfast at Bagatelle Game Ranch.

Watching a herd of elephants has a very special magic and you'll see these in virtually all of our wildlife safari destinations, except the Kgalagadi and Central Kalahari reserves. In the Cape, Addo Elephant Park is an obvious place to start. The camps of Zambia's Lower Zambezi are regular thoroughfares for thirsty elephants, however, there's nowhere better than Botswana – especially beside the waterways towards the end of the dry season. To get a lot closer, consider the elephant experiences at Stanley's, Baines' or Abu camps. To see 'big tuskers' – old bull elephants with spectacular tusks – there's probably nowhere better than Tanzania's Ngorongoro Crater.

In some ways, primates offer the most engaging wildlife viewing in Africa. For chimpanzees, Tanzania's remote Mahale Mountains is certainly the destination of choice, whilst those seeking gorillas need to venture to the Volcanoes National Park in Rwanda.

For a far from conventional wildlife experience, the islands of the Seychelles offer some surprisingly engaging and original wildlife encounters – including the marvellous giant tortoises, which can be seen on most islands.

Wildlife safaris with Wild about Africa
If you'd like to experience Africa's big predators, and fancy sharing you experience with a small group of fellow adventurers, see
Wild about Africa's
suggestions for
small group wildlife safaris to Namibia and Botswana
. They include exclusive holidays, as well as simple and luxury camping safari adventures.
Wildlife safaris in

Zambia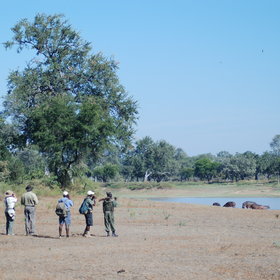 Ideas for wildlife safaris in Zambia
Wildlife safaris in

Zimbabwe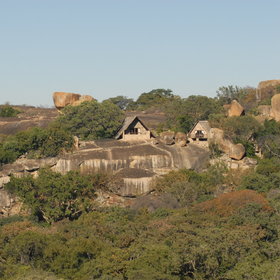 Ideas for wildlife safaris in Zimbabwe