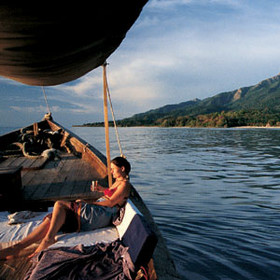 Escape and relax
Wellbeing in Africa
We think of 'wellbeing escapes' as trips which will help you relax and unwind; ones that give you the opportunity to get back in touch with nature and your inner self; journeys that are restorative, rejuvenating and deeply 'good for your soul'. Based on this description, most of the more remote places described in these pages qualify as 'wellbeing escapes'.

Head off on a walking safari: you'll concentrate on the natural world around you, gradually getting more in touch with it, and contemplating your place within it. Spend a few nights beside a camp fire, listening only to the noises of Africa: it'll put everything back into perspective. Look up at the clear, star-studded night sky in the solitude of the Namib Desert: you'll soon appreciate where your life fits into the great universe.

What's more – escaping to Africa will bring an income to some of the continent's poorer, more rural communities; so your escape adds to their wellbeing, as well as your own.

Of course, if you like the idea of conventional spa, massage and beauty treatments – then we also offer a handful of those. In the Indian Ocean, these are often Asian influenced, with highly professional Thai and Balinese masseuses in residence. On continental Africa, although more lodges are starting to offer therapies, spas tend to be simpler; we've visited some that claim to have 'spa' facilities only to find a single massage table!

Wellbeing escapes to the Seychelles
For premium products, inspired interiors and skilled therapists,
Maia
,
Banyan Tree
,
Lémuria Resort
and
North Island
in the Seychelles all have simply superb spas. Total relaxation is guaranteed.
(
See more of our favourite hotels for wellbeing holidays in the Seychelles…
)
Wellbeing holidays in Mozambique
In Mozambique,
Azura
is proving to offer very high quality treatments, and Marlin Lodge has long had a spa on site.
(
See more of our top tips for wellbeing holidays in Mozambique…
)
Wellbeing holidays in Namibia
In Namibia, a number of lodges offer massages, but
GocheGanas
near Windhoek,
Diviva
in the Caprivi Strip, and
Epacha
near Etosha all stand out as having well-equipped spas.
(
See more of our favourites for wellbeing holidays in Namibia…
)
Wellbeing escapes to Botswana
Botswana's
Jao Camp
has a full time massage therapist, whilst
Chief's Camp
has a beauty therapist offering poolside treatments from May to October. Its sister-camp,
Chobe Chilwero
, offers a range of in-room spa treatments from a firming facial to a full-body Swedish massage.
(
See more of the best places for wellbeing holidays in Botswana…
)
Wellbeing holidays in Tanzania and Zanzibar
Several of Tanzania's top lodges feature massages, from
Mnemba Island Lodge
, which offers different types (hot stone, deep tissue, aromatherapy and reiki), to
Sasakwa Lodge
and
Breezes Beach Club
, which both have extensive professional spas. Of the new spas which are springing up, one of the most authentic is the Osero Clinic at
Gibb's Farm
, which draws its treatments from traditional East African healing therapies.
See more of the best places for
wellbeing holidays in Tanzania
and
wellbeing holidays in Zanzibar
)
Wellbeing holidays in South Africa's Cape
In the Cape, many of the hotels offer excellent spa treatments, including the
Vineyard
,
Constantia Uitsig
and the
Bay Hotel
.
(
See more of our top tips for wellbeing holidays in the Cape…
)