Tribe
Rooms
137 rooms
Children
Best for 12+
Open
All year
On the outskirts of Nairobi's northern Gigiri suburb – location of several embassies, the UN complex and the big Village Market mall – the large, design-heavy Tribe hotel opened at the end of 2008, positioning itself as Nairobi's chic new place to stay and espousing a modern, inclusive, fun-loving ethos embodied in its slogan: 'one planet, one tribe'. They host frequent sponsored poolside events that attract crowds ranging from youthful party-goers to Nairobi's glitterati.
Our view of Tribe
There's no denying Tribe is a lot of fun. The plunging, angular atrium and generous displays of African art are impressive, and the atmosphere upbeat. We thought the food was a 7/10 rather than the 9/10 they clearly think it is, and we do feel that their famous events around the pool could sometimes be an issue for guests who don't consider themselves late-night, clubbing types. Tribe's rooms are innovative, the beds very comfortable and the whole 'package' stimulating, but we think most people passing through Nairobi will treat Tribe as a one-off adventure rather than a hotel to return to over and over again.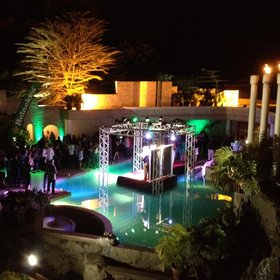 Tribe, is one of Nairobi's most popular and stylish locations for events and launches.